Veronika Kudermetova is 26. Having spent 11 years as a tennis professional, scaling the top 10 in singles and doubles, she is not far from being classed as a veteran of her sport. And yet, still, last week in Cincinnati the No 14 was toppled by an opponent whose career long precedes her entire existence.
In the year Kudermetova was born, 1997, Venus Williams reached her first grand slam final at the US Open. Now 43, her passion for the sport is so great that her motivation is undimmed. Williams trailed by a double break in both sets, 1-4 in the first set and 1-5 in the second, before recovering to win 6-4, 7-5 and secure her first top-20 win in four years.
It has been a long journey for Williams just to make it back on court after a couple of years filled with injuries. At the beginning of this season, finally healthy enough to put together an extended period of training, her level had already improved. But while en route to the Auckland quarter-final in January, she sustained a serious hamstring tear.
As she wrapped her head around the reality of another extended spell of rehab on the sidelines in January, Williams could not handle it. For two months she delayed starting her rehab, instead taking a mental break from tennis before finding her way back to tennis unexpectedly. While in a taxi in Paris in March, her driver took a wrong turn and they ended up driving past Roland Garros. It instantly ignited her desire to return to the court, leading her to take a trip to the All England Club in order to hit balls on Wimbledon's indoor courts.
"I was in Paris, and I literally was digging up a racket," she said. "Serena has a place there, and I looked and looked and looked and looked, and I finally found a racket. I found her shoes. Her shoes had the soles taken out. I'm in these shoes. They're too big, with one racket, and I'm trying to find string. I'm, like: 'OK, I'm ready to do my rehab again.'"
Williams found her way back on court and then eventually to competition, where her all-time-great status means she receives wildcards wherever she goes. While her game is naturally diminished at her age, her serve remains extremely potent and she uses all her veteran nous on the court, playing more conservatively and relying on the remnants of her supreme athleticism.
It has been fascinating to see Williams, a seven‑time grand slam title winner who at some point around the beginning of the century was the biggest player in the sport, readjust her ambitions, learning to cherish the smaller victories and enjoy the process that leads up to them. This week in Cleveland, she will face the 16-year-old Mirra Andreeva, her career spanning yet another generation.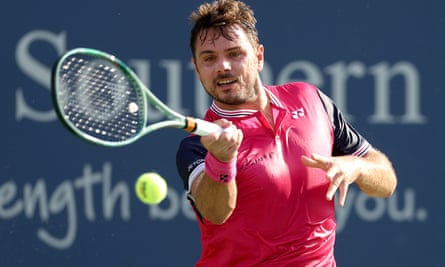 As Williams departed in the second round after a tough three-set defeat against the promising Chinese youngster Zheng Qinwen, the three-time grand slam title winner Stan Wawrinka provided a reminder of his own greatness.
Late on Wednesday night, Wawrinka produced a vintage performance to defeat Frances Tiafoe, the 10th seed, 6-3, 6-4 and reach the third round. Now 38, Wawrinka has had many of his own physical issues in recent years.
Just before the pandemic, the Swiss had knee surgery and last year began his comeback from foot surgery, falling outside the top 300 that August. Throughout this year he has been adamant he was training well and feeling his game in practice, but at his age it only gets more difficult to perform at the highest level.
This summer, though, Wawrinka's uptick in form has been undeniable. After reaching the third round of Wimbledon, losing against Novak Djokovic, he reached the final on clay in Umag. Against Tiafoe in Cincinnati, Wawrinka played at a brilliant level, losing just one point on his first serve throughout and smothering one of the best players in the world with his sweet, destructive ball-striking off both wings.
While Wawrinka attempted to recover from knee surgery in 2019, Gaël Monfils was playing some of his best tennis in years. But after squandering match points and narrowly losing against Djokovic in the 2020 Dubai final, the last event before the pandemic, Monfils lost eight matches in a row on his return and struggled to regain his confidence.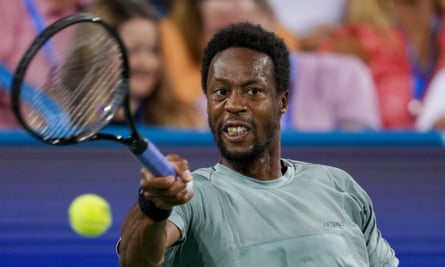 Since then, the past few years have been filled with injuries, with each positive step forward followed by a setback. This summer, though, Monfils has found his way just like his wife, Elina Svitolina.
After reaching the last eight in Toronto – beating the No 4, Stefanos Tsitsipas, in straight sets – Monfils outplayed two top-15 players in Cameron Norrie and Alex de Minaur just to reach the third round.
"People sometimes think it's easy to come back," Monfils said. "They see me move easy. They see me quite chill and laughing and doing that. No one knows all the pain that I need to impose on my body to get back into shape. All the mental discipline. More [and more] it is tough to get back."
Although Monfils bowed out with an ego-bruising 19th consecutive defeat against Djokovic, his performances underlined that he remains a threat to the rest of the field, his athleticism and all-round, all-court game still firing beautifully despite soon turning 37.
As Cincinnati comes to an end, the younger players continue to settle at the top of the sport but the spectacle of tennis is made even more meaningful by the veterans who, after more than two decades in the game, continue to find inspiration as they fight against their inevitable departures for as long as they can.