We have always known that Noah Lyles has the personality and panache to transcend his sport. But on a sweaty night in Budapest, the American superstar, fashionista and self-proclaimed influencer gave a beautiful reminder that he packs a mighty one-two punch where it matters most too.
Having won 100m gold on Sunday, the 26-year-old followed up with a stride-perfect victory over 200m to become the first man since Usain Bolt in 2015 to do the sprint double at these world championships. And in an entertaining press conference afterwards, Lyles set his ambitions even higher.
"I am ready to transcend the sport," he proclaimed. "I am the guy who wants to move past being track-famous. I want people to see me on the track, but in GQ and my docu-series, and realise I'm a cool guy too.
"Medals are the first step, because then people pay attention to you," he added. "And then you can go into different directions. Fashion. Music. You can start collaborating with other people, artists and the world."
Lyles also expressed his frustration with his sport's inability to break into the mainstream as he took a sideswipe at the NBA. "You know, the thing that hurts me the most?" he said. "I have to watch the NBA finals and they have world champion on their heads. World champion of what? The United States?
"Don't get me wrong. I love the US at times. But that ain't the world. We have almost every country out here fighting, thriving and putting on a flag to show that they are represented. They ain't no flags in the NBA. We got to do more. We got to be presented to the world."
At halfway Lyles was just 0.02sec ahead of his brilliant teenage compatriot Erriyon Knighton. But then the afterburners came on, and with every raking stride his lead was stretched, and his victory in 19.52sec became only more emphatic.
The 19-year-old Knighton took silver in 19.75, while Letsile Tebogo from Botswana, who is a year older, claimed bronze in 19.81. Their day will come. But right now Lyles is the man.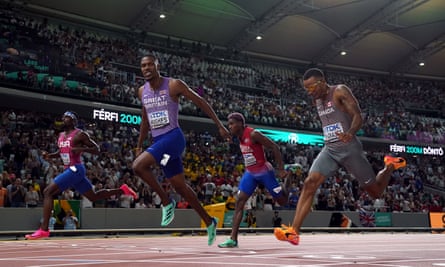 "I talk a lot about not having pressure but there is going to be pressure," he explained. "The 100m is fun. The 200m is personal to me. This is where I learned how to race and this was my third world title. Many guys came out with the idea of taking this from me. Today I had to take that win again."
As the cries of US-A, US-A rang out across Budapest for the first time, he jumped into the crowd to celebrate. Britain's Zharnel Hughes took a creditable fourth in 20.02, but he looked a little tired.
Earlier there was another sensational 200m performance from the Jamaican Shericka Jackson, who ran the second fastest time in history to set a championship record of 21.41 and retain her world title. With the benefit of a greater than +0.1 wind in her favour, Florence Griffith Joyner's controversial world record of 21.34, which has stood for 35 years, may even have fallen.
"It feels good to be world 200m champion," said Jackson. "The 200m is my baby. I just wanted to come and execute my own race. And I did pretty good tonight."
Asked whether she was disappointed not to break the world record, Jackson replied: "Definitely not, I ran a personal best. But when I crossed the line I looked at the scoreboard and thought 'arrghh'.
Behind Jackson, the American Gabby Thomas ran a superb race to finish second in 21.81, while her compatriot Sha'Carri Richardson, who won 100m gold, had to settle for bronze in 21.92.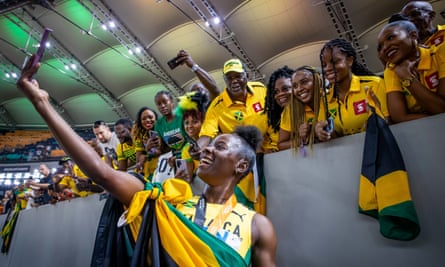 Britain's Daryll Neita was delighted to set a personal best of 22.16 in fifth but Dina Asher-Smith, who won bronze last year, was still feeling the niggle she picked up in the 100m semi-finals and came in seventh in 22.34.
"It's been a very tough week," said Asher-Smith. "I was in incredible shape, but after 60m of the 100m semi-finals I just couldn't feel anything below my waist. Sometimes when life hands you lemons, you have to make lemonade. I did the best with the curse I have been handed this week."
But there was better news in the 800m, with gold medal favourite Keely Hodgkinson and Jemma Reekie progressing through to Sunday's final by winning their semi-finals. However, the two other main dangers, Olympic and world champion Athing Mu and Commonwealth gold medallist Mary Moraa also looked strong.
Elsewhere on day seven of these championships, Yulimar Rojas retained her triple jump title with a last round leap of 15.08m to move from seventh to first. There was similar drama in the women's javelin as Japan's Haruka Kitaguchi threw 66.73m to move up from fourth to first in the final round.