It feels appropriate that the penultimate men's major of the year takes place beneath the famed Hollywood Hills. Books have been commissioned on golf's civil war, which has apparently morphed into peace in our time, but the themes would also make a captivating movie script. Leading players are focused on the US Open while background chatter concerns where on earth this sport heads next. Nobody has a clue.
If the United States Golf Association, one of the arbiters of the game, has its way, attention for four days will not deviate from the 123rd staging of this country's national championship. The venue, LA Country Club's restored North Course, is the most intriguing of the majors in 2023. This is the first time one of golf's big four has been played here and the first professional individual event since the LA Open of 1940, won by Lawson Little at two over par. The US prevailed when LACC staged the Walker Cup of 2017. "The membership decided it was the right time to showcase this magnificent facility to the world," said the USGA. It is clear who called who.
In this land of celebrity, A-listers need not apply for membership because they are not welcome. Victor Mature discovered that when seeking to join LACC in the aftermath of the second world war. Mature was told actors did not meet the club's criteria. "I'm not an actor," Mature said. "I've got 64 films to prove it."
Golf clubs and their strange approach to rule-making is hardly new. Try running at Augusta National. Royal Birkdale, which sits on the Open Championship's rota, historically did just about everything it could to prevent famous footballers – some of whom had homes bordering the course – from being granted membership.
At Western Gailes in Ayrshire, players must enter and leave the clubhouse in jacket and tie but can discard them while inside. LACC will throw open doors to tens of thousands of golf fans in the coming days but surely with an element of gritted teeth. A glance at rules for visitors includes, under "Women's Attire": "Skirts must be no shorter than 4" above the knee." It adds: "Women may wear brimmed hats, not golf caps, coordinating with their outfits in the clubhouse." No colour clashes, folks.
There's more. "Children under the age of 7 must maintain a conservative and modest attire in keeping with the club's tradition." The club prohibits tipping. Headphones and earbuds are banned. "Members and guests of the club may not discuss the club's membership, events, policies, rules, by-laws or activities using social or professional media platforms."
Experts regard LACC as the second-most valuable piece of real estate in the US which has not been developed for housing. Central Park tops the list. Sonny and Cher once had an estate by the course, which went on the market in 2017 for $180m. Hugh Hefner died that same year, leading to the Playboy Mansion – neighbouring the 14th tee– falling into disrepair. The current owner, Daren Metropoulos, kept the mansion's garden zoo. Players teeing off are still subjected to the calls of cockatoos and peacocks. Lionel Ritchie's sprawling mansion overlooks the par-five eighth; Rory McIlroy hardly needed once, twice, three times a lay-up during practice as he reduced the hole to a three-wood and short iron.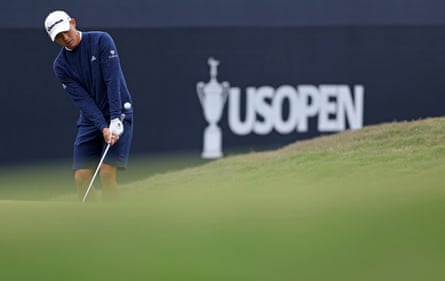 On a stunning piece of property, other holes look ferocious. The par-three seventh is 284 yards. The opening hole can stretch to 590. The back nine includes three par fours – the 13th, 16th and 17th – over 500 yards. Craig Connelly, Martin Kaymer's caddie, expressed his belief on Twitter that players must carry the ball 295 yards from the tee on the 13th, or face their ball rolling back for up to 50 yards and the green being out of reach.
"This is a major that I cared about when I was like in college," said the Los Angeles native, Collin Morikawa. "I knew about LACC hosting a US Open. I didn't know where my path was going to be. I didn't know if I was going to be on Tour, if I was going to have to qualify for this. It is pretty much four years since I've been pro. I didn't know where I was going to be, but this is the one that I wanted to make it and be at just because it is home for me. This week means so much. It always will. It'll always be really special.
"It's a big-boy golf course. It really is. You've got to hit good shots, especially with how penal the rough is. You've got to hit it in the fairways. It's what you want for a major championship."
The USGA has confirmed the US Open will return to LACC in 2039. Their challenge over four days is to make that wait feel far too long.