In late 2009 I was sent to Baltimore for a Sports Illustrated feature story on Michael Oher, a rare household name among NFL offensive linemen. Oher was a few months into his rookie year and on the brink of a critical showdown against the Indianapolis Colts.
In the book version of The Blind Side, which places Oher within the NFL's evolution into a passing league, he is set on a collision course with the sport's top quarterback cruncher – Indy's Dwight Freeney. And after devouring the Michael Lewis book, his Moneyball for football geeks, I was keen to dig into this and more with Oher. By this point he was over the book and unhappy with the much-hyped film that sprang from it and was due to premiere that same weekend. The Ravens PR team cautioned that Oher would turn me away faster than a corner blitzer if I asked too many questions about The Blind Side. Just how touchy a subject it was for him has become that much clearer in the wake of a feud that contains personal wounds, cultural rifts and career consequences that run deep.
It kicked off on Monday with news that Oher had filed a petition in a Tennessee court against Sean and Leigh Anne Tuohy, who play a huge part in The Blind Side. In the petition, Oher alleges the Tuohys, who took him in as a teenager and claimed him as their adopted son, duped him into appointing them his conservators after his 18th birthday and went on to make business deals for themselves as his power of attorney.
Principally at issue is the extensive exploitation of Oher's name and likeness in The Blind Side film – a $300m box office smash that allegedly resulted in seven-figure royalties for the Tuohys and their two natural-born children. Oher, meanwhile, is purported to have signed away his life story for no return. Meanwhile, the Tuohys were backed by CAA, the powerful Hollywood agency that also represents Lewis – one of Sean Tuohy's best friends from high school.
The allegations have reportedly "devastated" the Tuohys. Martin Singer, an attorney for the family, called the motion a "shakedown", claiming that Oher threatened to go public with his story unless the Tuohys paid him $15m. The feud has not only resonated with those who followed Oher's on-field career, but also those who only know these people from the movie. Even a New York Post tweet of a story on the family's lavish post-Blind Side spending foregoes a lead photo of Leigh Anne Tuohy for one of Sandra Bullock, who won an Oscar playing Tuohy in the film. In headlines and on social media, there were no shortage of jokes riffing on the blindsiding irony of the news. But anyone who had been paying close attention all along could have seen this day coming.
Despite a welter of kind reviews and extensive industry acclaim, the movie version of The Blind Side has come to represent a low point for the white savior trope – the unlikely story of the rich white lady who turns a downtrodden Black teen hulk into an improbable Sunday pro. Jeffery Montez de Oca, the founding director of the Center for Critical Study of Sport at the University of Colorado in Colorado Springs, took aim at the film's framing of adoption as "a signifying act of whiteness that obscures the social relations of domination that not only make charity possible, but also creates an urban underclass in need of charity." In her seminal tome White Fragility, Robin DiAngelo excoriates the film as "fundamentally and insidiously anti-Black." In his one-star Guardian review, Peter Bradshaw pronounced The Blind Side "dead from the neck up and the neck down."
Over the years Oher himself has oscillated between endorsing the film's message of perseverance and recoiling from its characterization of him as a charmless simpleton who could barely read or write, let alone fathom football's many complexities. In one of the film's cringier scenes, the Tuohys' young son uses ketchup bottles to teach "Big Mike" – who in reality was already a sought-after college recruit at this point – basic football tactics. Because football is as much a game of reputation as it is one of skill, the stylized perception of Oher became his story.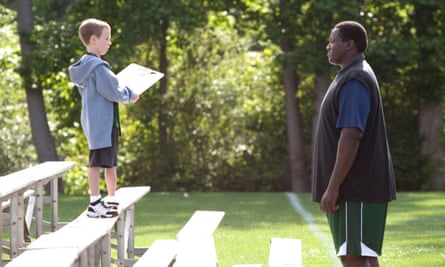 Before the film's release, Oher was already aggrieved by its suggestion that he was somehow lucky to make it out of high school after missing large parts of his early education due to his disadvantaged upbringing. "The thing people don't understand is I had to bring my grades up," he told me of the work he put into graduating with a criminal justice degree in the same year he turned pro – an uncommon feat in elite US sports. "A person can't get smart in a couple days." It was "things like that" that most bothered him.
Despite writing two autobiographies over the past decade, Oher has yet to shake off popular perceptions that he is dim. "The biggest for me was being portrayed [in the film] as not being able to read or write," Oher recently said. "When you go into a locker room and your teammates don't think you can learn a playbook, that weighs heavy."
The Ravens locker room has a reputation for being especially hard on rookies. And yet Oher quickly proved he belonged thanks to his smarts and obsessive-compulsive approach – attributes that enabled him to thrive at tackle, a position that requires tactical and technical knowledge. Teammates especially loved his disdain for the spotlight, a quality intrinsic to offensive linemen. Oher was proud to tell me he had "flipped through" the Lewis book and would miss the film's red carpet premiere because "we got a big game, this is what I do for a living, so that's what I have to focus on." (Instead, Quinton Aaron, the actor who played him in the film, took his place with the Tuohys. That he, too, has struggled to capitalize on The Blind Side's success further reinforces DiAngelo's point about the Oher character's fundamental flaws.)
Although the Ravens wound up losing the game against the Colts, Oher held his own in the few instances he faced Freeney and rounded into a solid pro, playing eight seasons and appearing in two Super Bowls – winning one with the Ravens – before calling it quits after the 2016 season. By most metrics, his was a successful career – and yet it's hard not to imagine how much better it could have turned out had Oher gone to college football powerhouse Alabama. In The Blind Side, much is made of Bama coach Nick Saban, a brilliant developer of talent, visiting the Tuohys expressly to recruit Oher – only for him to wind up choosing to sign with Ole Miss, a perennial loser that Sean and Leigh Anne Tuohy attended and vigorously supported as athletic boosters.
Though Oher did help improve Ole Miss and wound up the 23rd pick in the 2009 draft as a result, many will wonder what might have been if he had spurned the Tuohys and followed Saban, who went on to win six national championships and built Alabama into an NFL talent pipeline. At worst, Oher would have been a top 10 pick in the draft, guaranteeing him a huge signing bonus and setting him up for even more lucrative paydays; at best, could have been a true NFL great. Either way, that's tens of millions Oher may have lost out on because of the Tuohys.
Interestingly, while Singer, the family's lawyer, said the Tuohys would "defend their good names," he also acknowledged the family would release Oher from the conservatorship – a concession that would appear to validate one of the biggest claims in the petition. How the story ends is anyone's guess. At least now there's no more refuting the fact that the "official" Oher story was built on shaky foundations. It's only fair that after years of having everyone else's back, Oher is finally protecting his own.