As the delirious battle between Carlos Alcaraz and Novak Djokovic moved closer towards its climax in Cincinnati last Sunday, Alcaraz desperately tried to hold on. Down a championship point at 3-5 in the third set, the 20-year-old pulled off a stroke of genius to stay alive. He dragged Djokovic to the net with a slick drop shot, then he rapidly chased down the Serb's own delicate drop shot before steering a forehand past him at the net. Djokovic described the point as "unbelievable".
The court coverage exhibited by the pair time and time again was just as significant as the breathless shotmaking that preceded it. The final four shots of that point, and so many others that night, were soundtracked by the burning of rubber beneath their feet as they slid to the ball, stopped and immediately changed direction with startling efficiency.
While conventional wisdom once suggested that sliding would only work on grainy, slippery, clay courts, the ability to slide on hard courts has become one of the defining points of evolution. Most top male players slide, as do many of the best on the WTA.
"It's crucial in today's game," says Félix Auger-Aliassime. "That's why people care so much now about preparation, about flexibility, range of movement. Also for the long-term, because you see what it requires for a guy like Novak to be that competitive still."
With battles consisting of hundreds of rallies and so often decided by one or two points, everyone is searching for marginal gains. As the players have become increasingly athletic and many hard courts have become slower, further aiding baseliners, movement has become one of the most drastic vehicles for evolution. It will play a crucial role in determining the US Open champions when the tournament starts on Monday.
In the past, when forced out wide and on the defence, players would naturally have to take a series of small, stuttering steps in order to slow down, come to a halt and then push off in order to change direction. Now they just slide.
"It's better for your game," says Alcaraz. "You can reach some balls that probably if you don't slide, you don't reach. Almost 100% of the players slide and tennis is developing in that point."
Sliding on hard courts is not the invention of the current generation. Michael Chang, Marcelo Rios and the flexible, dynamic Paradorn Srichaphan left slide marks at times, with Srichaphan among the most spectacular early men's sliders. Meanwhile, the history of women's tennis cannot be told without a nod to Kim Clijsters's ability to defend her forehand by sliding into balls at full splits.
It is no coincidence the No 1s and the leaders of the new generation on each tour – Alcaraz and Iga Swiatek – are two of the most prolific hard-court sliders. Few of the players can even put a finger on how it first came into their games. They were never taught how to slide, nor did they ever deliberately set out to the courts with the goal of learning.
"I don't remember exactly the time I began to slide on hard court," says Alcaraz. "For me, it's natural, I don't think about it." Swiatek concurs: "It wasn't deliberate. It was more natural and I just kind of moved that way. I don't remember anybody explaining it to me."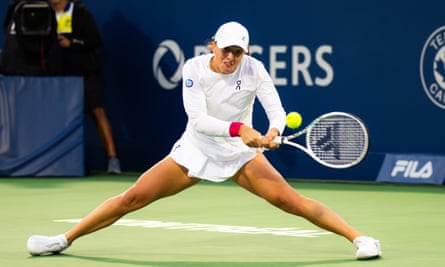 Auger-Aliassime suggests their mastery of the hard-court slide was rather subconscious. "It was part of this generation that we saw players do it on TV and we tried it as kids and it worked," he says. "It's also like when something new comes in a sport and it impacts a whole generation, I feel like I was part of that."
There are levels to sliding excellence. Some players only trust one foot to slide on, usually their leading foot out to the forehand wing. Some also only slide after striking the ball, using the court friction to change directions. The best hard-court sliders are those rare players capable of sliding off both wings and sliding into the shots with their body efficiently in open stance.
"You see it now with Alcaraz, [Jannik] Sinner. A lot of the younger players are now doing that all of the time," says Andy Murray. "It's just a slightly more efficient way to move. For me, when I hit backhand if you're not sliding, you have to step across yourself, then take one more step before you push back into the court. Whereas the guys that slide play that sharp open stance and immediately stop themselves so it just creates a little bit more time when you're moving."
Time is one of the most valuable commodities. Sliding to reach the ball while in an open stance can be an offensive move, allowing the best players and movers to reach and quickly deflect balls.
"If you hit the ball from three feet inside the baseline at 70mph it is better than hitting it at 85mph from two, three feet behind the baseline because you're just rushing and taking time away from the opponent," says Murray. "The sliding is a really important part of that and Novak was certainly one of the first ones to do it incredibly well off both legs."
Even as supreme athletes such as Alcaraz and Swiatek emerge, Djokovic remains the very best at sliding. While many players have learned how to slide incredibly effectively, nobody has mastered the skill like the 23-time grand slam champion. His combined flexibility, balance, speed and sliding ability off both sides have allowed him to move more efficiently than any player in history.
There are a select few on the tour, such as a prime Rafael Nadal or Gaël Monfils, who may possess more raw pace than Djokovic in general. But Djokovic's movement is more suited to the particular demands of professional tennis than any other. "It's probably one of the advantages that Novak, for example, would have had over me was the ability to slide on the left leg on the hard courts," says Murray.
Djokovic's ability to slide on grass, too, has helped him to win seven Wimbledon titles. He credits a range of different factors for this ability, from skiing to being encouraged to walk barefoot as a child. "When I was a kid, my parents were encouraging the barefoot walking so it's a combination of things have allowed me to have really good flexibility of ankles, which, in turn, contributes a great deal to the movement on the court and the sliding motion."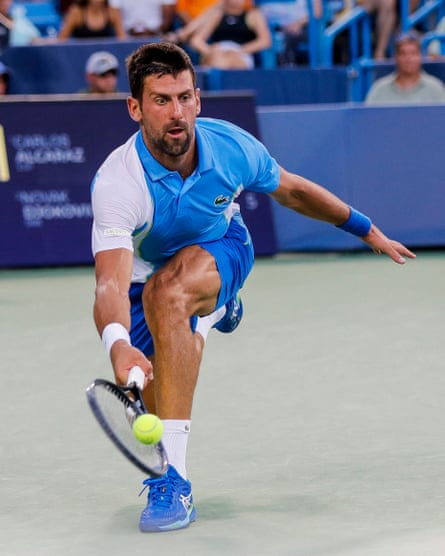 As he discusses sliding, Djokovic comes with a warning. "If you don't have very flexible ankles, if you have fragile ankles, then probably think twice if you want to go for an extreme movement like that."
There is undoubtedly danger involved in sliding on hard courts. "You need the body to be ready for those kind of impacts," said Auger-Aliassime. "It can be almost three times your body weight on one impact when you're fully sprinting and stopping on a slide on hard courts. It's a lot of load on one foot or one ankle."
Tommy Paul is one of the most dynamic athletes on the tour and he can effortlessly slide off both feet, forwards and backwards, but while his colleagues continue to embrace sliding, he says: "I'm trying to do it less."
For Paul, sliding can sometimes promote laziness, with the American neglecting the small, precise adjustment steps required to move around the ball and create space in order to strike it, in favour of one big slide. The best find the right balance, while others do not.
"My coach is on me all the time about that," he says. "He doesn't want me to slide. He only wants me to slide when it's completely necessary. So I'm trying to work that out in my game.
"If you watch Roger [Federer], he slides a little bit, but he didn't slide as much as I'm sliding or Monfils is sliding, and he probably has the best footwork in the history of the game."
For the many players who do slide, there are some who certainly don't. Daria Kasatkina is an excellent mover with light, precise footwork and she thrives on clay courts. In theory, Kasatkina should have little issue sliding on hard courts but in reality she feels miles behind. "I don't slide on hard court. I feel like if I will try to slide, my leg will break, I will fly away. I don't know how the guys, they slide so much. Some of the girls as well. Maky Vondrousova, she slides on grass."
After some unfortunate ankle injuries while sliding over uneven lines on clay courts, merely sliding on that surface is a source of nerves for her. "Before, when I was young and fearless, I tried. But then with age – also, a few times I twisted my ankle on clay, so after that I better go faster with my legs."