Ever since Usain Bolt hung up his size- 13 spikes, track and field has yearned for a way to crash back into the mainstream. Over 10.65 extraordinary seconds in Budapest it hit the jackpot. It came in the diminutive form of 23-year-old Sha'Carri Richardson, the most flamboyant, brilliant and controversial talent this sport has seen for years, who powered home from lane nine to win a thrilling first 100m world title.
No one has ever disputed the American's talent – or star power given she has 2.4 million Instagram followers. In 2021 she was among the favourites for the Tokyo Olympics, only for her dreams to go up in smoke when she tested positive for marijuana at the US trials after the death of her mother. First she missed the Games. Then, for most of 2022, she went missing.
But, on a night of suffocating heat and impossible drama, Richardson came back with a vengeance. Few gave her more than a puncher's chance against the Jamaican sprint legends Shericka Jackson and Shelly-Ann Fraser-Pryce, who had won 24 world championship medals between them – 13 of them gold. But the American had other ideas, running the sixth fastest time ever to write her name into the history books.
Asked afterwards about how she had achieved her moment of sweet redemption, Richardson said: "It's about knowing that no matter what happens, you never lose sight of yourself. You're going to have good days, you're going to have bad days, you are going to have better days. You're going to have worse days. But you live to see tomorrow. Every day the sun doesn't shine but that's why I love tomorrow."
Every athlete has a story, but few are as painful or as compelling as Richardson's. She was abandoned by her mother and tried to take her own life at high school. She has talked openly about her mental health struggles, both before and after missing the Olympics. It has made her many successes – including a string of college titles and now this performance – even more impressive.
But while Richardson's many supporters focus on her comeback, her critics prefer to note her spiky nature – which saw her thrown off a plane earlier this year – or her association with her coach Dennis Mitchell, who was banned for two years in 1998 after testing positive for testosterone.
Mitchell's defence, that he had drunk five bottles of beer and had sex with his wife at least four times because "it was her birthday, the lady deserved a treat", was later rejected. Yet Richardson explained afterwards that the criticism and hostility that she faces merely fuels her.
"I always say never give up," she said. "Never allow the media, never allow outsiders, never allow anything but yourself to define who you are. I would say always fight, no matter what, fight."
Richardson, who sports a dragon tattoo on her shoulder, had hinted at a return to form earlier this season going into these championships. However, an atrocious start in the semi-final meant she started the final in lane nine, away from Jackson and Fraser-Pryce and the heat of the battle in the centre of the track.
But, strangely, being shunted out to the margins may have helped her. For not only did it take the pressure off Richardson, it also allowed her to creep on her rivals as if by stealth before delivering the coup de grace.
Deep into the race it appeared to be a Jamaican battle for gold, only for Richardson to speed past Jackson, who took silver in 10.72sec, and Fraser-Pryce, who had to settle for bronze in 10.77.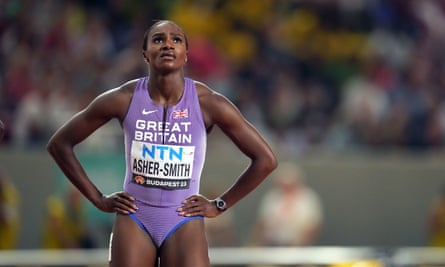 Britain's Dina Asher-Smith, who had hoped for a medal, was only eighth in 11.00. "I'm almost in disbelief," she said. "I know I'm in great shape."
But while this was Richardson's night there was a sharp reminder that few athletes divide opinion more sharply in her post-race press conference. While some questions to her sounded like declarations of love and appreciation, others – including one that asked, quite reasonably, about how she had come back from failing to make the US team last year – were greeted with disdain by the American sprinter.
However, at the end of it all, one thing was undeniable. Track and field has an athlete who is must-see TV going into an Olympic year, and someone who won't back down from her opponents or critics.
"My coach, my family, supporters, and haters – all of their motivation has brought me to this moment," she said. "It helped me prevail. It helped me overcome."
What a night. What an athlete. What a story.