The San Francisco 49ers have traded quarterback Trey Lance to the Dallas Cowboys less than three years after trading three first-round picks to draft him.
The Cowboys will send a fourth-round pick to San Francisco for a player drafted third overall in 2021 in the deal, which 49ers general manager John Lynch confirmed.
"Really hard day," Lynch said on the team's preseason broadcast on KPIX during Friday night's exhibition finale. "Such a wonderful young man. We took a shot and it didn't work out. We own that. We take accountability for it. I think his story is very much unwritten. I'm excited for Trey. Dallas stepped up and really wanted him and they came after him. I think it will be a great landing spot for him."
ESPN first reported the trade.
Lance had lost the competition to Sam Darnold to be the backup to Brock Purdy in San Francisco earlier in the week, setting the stage for his departure.
The move is a remarkable backtrack following the hefty investment the Niners made in hopes of Lance becoming a franchise quarterback.
San Francisco traded three first-round picks and a third-rounder to Miami in 2021 to move up from No 12 and draft the untested Lance third overall.
Lance started only 17 games at FCS-level North Dakota State before the Niners drafted him, and he never got much of a chance to gain the experience he needed in the NFL.
He spent his rookie season backing up Jimmy Garoppolo, starting just two games as an injury replacement and being hampered by a finger injury on his throwing hand.
Lance was handed the starting job last season, but that lasted less than five quarters as he broke his ankle early in Week 2 and was sidelined for the rest of the season.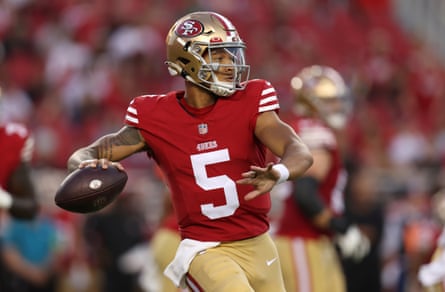 Purdy, taken with the last draft pick in 2022, came on late in the season and won his first seven starts to take over the starting role headed into this season.
San Francisco signed Darnold in free agency after he flamed out with the Jets and Carolina after also being drafted third overall in 2018 by New York. Darnold ended up doing enough in practices and the first two preseason games to beat out Lance.
Lance has completed 56 of 102 passes in his brief NFL career for 797 yards, five TDs, three interceptions and an 84.5 passer rating. He also has rushed for 235 yards and one TD on 54 carries.
"I can tell everybody it wasn't for a lack of effort on Trey's part or on our part," Lynch said. "Circumstances took hold and he struggled through injuries. This team is ready to win. We like our quarterback room. We like Brock Purdy a lot, we like Sam Darnold and we like Brandon Allen. We wish Trey all the best in Dallas and we'll always care about that young man and admire his work ethic and the person that he is."
Lance's four starts will be the fewest for any quarterback taken in the top five of the draft in the common draft era for the team he made his debut. Jack Thompson had the previous low after starting five games for Cincinnati after being taken third overall in 1979.
The Cowboys now get a look at Lance, who is owed $940,000 this year and is guaranteed $5.3m next season in the final year of his rookie deal.
Cooper Rush has been the backup most of Dak Prescott's career in Dallas, including last season when he went 4-1 filling in after Prescott broke his thumb in the opener.
The trade appears to be the end of the line for Will Grier, who has been the third-stringer the past two seasons without appearing in a game.