Christian Pulisic is listed on the Milan website as weighing 73kg or 161lbs, but Rafael Leão lifted him off the floor like a dad with his kid at school sports day, hugging him right up into the air. When you have been carrying a team's attack for as long as the Portuguese has, anything else feels light by comparison.
Leão has been Milan's top scorer and assist-provider in Serie A for two seasons running – though he did share the first of those titles with Olivier Giroud in 2021-22 – a blessing and a curse for his team. He seemed to win games on his own at times, but the Rossoneri also became predictable, forcing play through him. When injury forced Leão to miss the Champions League semi-final first leg against Inter, there was no one else able to provide a spark.
No wonder Stefano Piolo's summer transfer priority was alternative angles of attack. "My requests were to find wide forwards who can take an opponent on one-on-one," he told Dazn after the season-opening win over Bologna. "After that, midfielders who know how to break the lines. We wanted to be able to build play in different ways, to have fluid construction."
Pulisic had been on Milan's radar since Chelsea floated the suggestion of including him in a swap deal for Leão last summer. The terms, though, were more favourable in this transfer window, with the English club needing to shift players off its wage bill after Todd Boehly's billion-dollar splurge. A €20m fee was agreed for a player who Chelsea paid €64m to acquire from Borussia Dortmund in 2019.
Two games into the new season, that already looks like a steal. Pulisic scored against Bologna on his Milan debut, exchanging a one-two with Giroud before drilling into the bottom corner from outside the box with three defenders around him. He then followed that up by bagging the opening goal in a 4-1 rout of Torino on Saturday.
Once again, Pulisic helped to create the chance as well as to finish it, taking a defender with him as he angled in from the right to receive a pass from Fikayo Tomori, before feeding Ruben Loftus-Cheek into the space he had vacated. Pulisic then held his run into the box, allowing a panicked defence to rush away from him before cruising in to receive the return ball and prod into an empty net.
Leão hugged him, and San Siro shook. Pulisic spoke a few weeks ago about the impression this place left on him when he came for a Champions League game with Chelsea in October. "I think Milan, playing at San Siro, might be the best place in the world when there's a big game," he told ESPN. Even for this early-season game against opponents who finished 10th last season, there was a crowd of 72,013.
Those fans are falling for him already, and how could they not? Since Serie A went to three points for a win in 1994, only four other players have scored in their first two matches for Milan. Not all of them went on to become club legends like Andriy Shevchenko, but even Jérémy Ménez finished that debut season with 16 goals.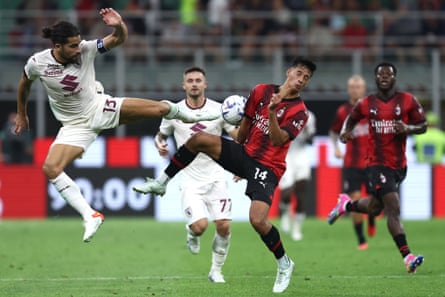 The truly encouraging note for Milan, though, is that Pulisic is not alone. Several other new signings have also hit the ground running, including his former Chelsea team-mate Loftus-Cheek. Pioli had his eye on the midfielder for some time, initial conversations taking place around the aforementioned Champions League clash.
The Englishman fits the mould that Pioli talked about, a high-energy midfielder who can provide those inserimenti – line-breaks – the manager craves. Pulisic's goal was a case in point: this Milan team can hit you from all angles.
Familiarity between new arrivals has no doubt been an asset in Milan's fast start. Pulisic and Loftus-Cheek know each other from Chelsea, likewise Tomori and Giroud. But it's also true that Milan were deliberate in getting these deals done early. The club could have haggled longer over the sale of Sandro Tonali to Newcastle, but preferred to bring money in quickly so they could complete signings and give new players as much time as possible to integrate over the summer.
Pulisic and Loftus-Cheek are not the only fresh faces. Tijjani Reijnders arrived from AZ Alkmaar, Yunus Musah from Valencia, Samuel Chukwueze from Villarreal and Noah Okafor from Red Bull Salzburg. The fees ranged from €14m-€20m, reflecting a strategy to spread bets across a number of players young enough to hold resale value and with potential to improve.
Disagreements over this approach are understood to be behind the June decision to sack Paolo Maldini as technical director, together with his close collaborator Ricky Massara. Many at the club were shocked by the move, including players who cited the former captain as a reason they joined in the first place. Leão posted a 'thinking face' emoji on Twitter and an Instagram story of himself miming zipped lips, over the song lyrics "say no more".
Gerry Cardinale, CEO of RedBird Capital who own Milan, had been disappointed by last summer's transfer campaign, when Maldini and Massara bet big on Charles De Ketelaere only for the Belgian No 10 to go a whole season without scoring a goal. The team went from Serie A winners in 2022 to scraping back into the Champions League only thanks to Juventus's points deduction.
Maldini has not spoken publicly since his firing but had hinted previously at differing visions when he talked of wanting the club to be more ambitious. The sense was that he felt the club should invest more boldly in proven winners, to take the next step.
It is too soon to say Cardinale has been vindicated, but this has been an encouraging start. Torino did equalise after Pulisic's goal, but the Rossoneri roared back with a pair of Giroud penalties either side of a gorgeous chip from Theo Hernández, played through by Leão to remind us that the old mechanisms still work just fine.
Pulisic's strikes, and a newly interested American audience have unsurprisingly dominated the headlines, but Reijnders has also started both games alongside Loftus-Cheek in midfield and arguably been the more impressive of the two. So far, only three players in Serie A have covered more ground.
Pioli has reshaped his formation to make the most of his new talents, swapping his old 4-2-3-1 for a 4-3-3 with Reijnders and Loftus-Cheek working box-to-box and Rade Krunic sitting between them as the holding midfielder. Pulisic, who many expected to play as a No 10, has so far lined up on the right wing.
All of this is subject to change. Chukwueze will get chances to start before long, and at some point Milan hope to have Ismaël Bennacer back from his knee injury, though that may be months away yet. The flexibility, in any case, is the point. "Having more solutions is an advantage for me," said Pioli last week. "This group is a lot of fun to coach." By the looks of those goal celebrations, it's a lot of fun to play in, as well.