Almost 13 months have passed since the confirmation that a wind of change had swept through golf. In sleepy, leafy Hertfordshire, LIV Golf teed off against the backdrop of intense acrimony and serious doubts. "Golf, but louder" was the chosen advertising slogan.
It was golf, but jitterier. Players looked over shoulders, nosy interlopers were concerned about even being spotted in the rebel environment. Partly through concerns over the sportswashing element attached to the LIV plan and partly through the belief that the establishment, the PGA and DP World Tours, could not be overhauled, the tournament at the Centurion Club was viewed with ridicule.
This past week, LIV has taken over Valderrama, the famous Spanish venue intrinsically linked to the European game. The Open champion, Cameron Smith, is in the field. So, too, is the US PGA champion, Brooks Koepka. Phil Mickelson, Dustin Johnson, Graeme McDowell, Ian Poulter, Lee Westwood, Henrik Stenson, Sergio García, Patrick Reed and Bryson DeChambeau are names that will at least register with those not immersed in this sport.
The same players will land back at Centurion, where 10,000 spectators a day are expected this week. Justin Rose is due credit for participating in the British Masters but the paucity of the overall cast list at the Belfry is striking. The leaderboard at the PGA Tour's Rocket Mortgage Classic in Detroit is only slightly more appealing.
The riches of Saudi Arabia's Public Investment Fund naturally help but LIV has already confounded doubters. Businesses with deep resource can fail. This is the elite golf element with momentum. Yasir al-Rumayyan and the PIF he oversees have no plans to scale back, despite the recently announced alliance with the PGA and DP World Tours. Perhaps those organisations have more to fear than anybody had anticipated.
"Look at this," says the former European Ryder Cup player Paul Casey, pointing to hundreds of autograph hunters at the front of the Valderrama clubhouse. "The edginess has gone. The uncertainty has gone.
"I shouldn't speak on behalf of others but Yasir needs to make it known that these guys are in for the long haul. I don't think it's a question of being around next year, it's about a long while. A decade or two and then see what happens."
Casey is no fool. His bullishness is not in isolation. He is correct to emphasise a change in mood, evident from only minutes spent on the driving range. LIV players now feel comfortable. "I am proud of my decision," says the two-time major winner Martin Kaymer. "We got a lot of shit from the media, from people that did not know much about it. We got so much crap from them.
"I think my intuition and belief was correct, in believing what Yasir and his team were saying at the beginning. They were very transparent and most of it has come true. I am happy to be part of a successful startup.
"Nothing much has changed. I just think the foundation has become stronger. The plan is coming along, is coming true and that builds confidence. You can sense the energy, it is so good at these events."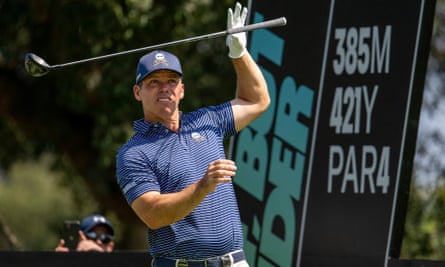 Ten of LIV's dozen teams – of three each, plus one reserve – are partly owned by players themselves. The long-term plan has involved the sale of sponsorships across those franchises to justify the business model. Take-up has been slow to the point of nonexistent but there is background reasoning there; PIF made it clear to teams that offers worth only six figures were not to be entertained. Insiders also claim interest from potential backers increased markedly after the framework agreement with the PGA and DP World Tours was confirmed. Legitimate LIV?
A deal with Valderrama has been extended to run for five years. External suppliers with similar contracts have been assured they have nothing to fear. Kaymer has disclosed that six professionals have contacted him seeking LIV berths in 2024, when the number of teams may well increase.
"It's fun being out here," says the German. "It's a different way of playing. People have seen it after 12 months and wonder if there is room for them, especially Europeans who maybe do not want to base themselves in America. So that did not surprise me." Kaymer – calm, considered – is an unlikely revolutionary. There is no sense he is bluffing, either.
None of this is to paint LIV as an undisputed success. Players – generally – were coaxed by exorbitant sums of money rather than an altruistic mission to assist the game. When Koepka discovered one private jet was not enough to carry him and his team between Adelaide and Singapore in April, he simply ordered another one. Individuals could shoot 95 three times in a 54-hole LIV event and still walk off with $120,000. Team reserves collect $40,000 merely for turning up. Still, it must be accepted that victory for Koepka at the US PGA Championship undermined scorn about LIV's competitiveness.
"I made my decision," he says when asked whether his move has been justified. "I felt like I was going to be OK anyway. If I never played again, there were more important things. This isn't my entire life.
"LIV has obviously grown. It's like anything, you learn from the first few and then try to build. We are definitely getting there but the final product for the first year of anything is not going to be quite what you want it to be."
The rise of Performance 54, once a standard golf marketing agency, to running key elements of LIV raises questions about how robust management structures are. The cerebral Atul Khosla abruptly departed as LIV's chief operating officer in December and is yet to be replaced. The deal agreed between PIF and the PGA Tour was basically through acceptance that litigation in the United States was mutually harmful. This is not the stuff of sporting fairytale.
There remains no active anti-doping programme on LIV. The team element LIV pushes so strongly still feels as if it has no wider resonance. At the end of last year, amid concerns about overspending and an internal blame game, there was a legitimate fear LIV could cease to exist. Executives such as Khosla departed the scene. Rumayyan stepped in, with the insistence his show would go on.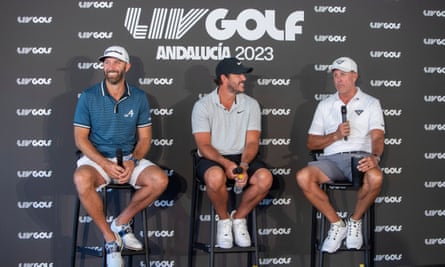 It is noticeable that human rights discussion is far less prevalent in this environment than was previously the case. "If I took a close look at where any of my pay cheques had come from, I would barely have hit a shot in professional golf," says one player.
The point is not unreasonable: the DP World Tour was happy to point players in the direction of Saudi Arabia when it oversaw a tournament there. Jay Monahan, the chief executive of the PGA Tour, used moral objections as a case for retaining players a matter of months before heralding his deal with Rumayyan. Golf, still far too often the domain of white males, has a strange relationship with ethics.
Greg Norman, LIV's polarising commissioner, lurks in the background. The official explanation for his lack of media duties is that focus should be on players. Monahan is not a regular in front of journalists. That rationale does not entirely fit; this is a new business, seeking traction, which in the Australian has a golfing A-list figurehead. It may simply be LIV does not want Norman to fan flames.
The rest of the workforce, about 150-strong, is noticeably young, diverse and drawn in part from those with experience elsewhere in golf. It would be an exaggeration to suggest this is a perfectly transparent business but staff are unfailingly helpful. Like the players, in public they are unaffected by earlier negativity.
"This is where it's at," says Casey. "People have bought into it. The events I have been at have been amazing." But what of the vehement criticism? "I didn't take any time worrying about it. Is that not a rule of life: don't take anything personally. I spend my time trying to look after my family, trying to be as good as I can be at my craft and making sure people have a good time at these events. My energy has all been spent there."
In early June, Jimmy Dunne – an architect of the multiparty amalgamation – put the PGA Tour firmly in control of the sport's future. "If Monahan wants to disband LIV, he can," said Dunne. The message has not reached Valderrama.