Campbell Hall's Garver Gym is, by all accounts, an intimate community space. Quaint. There's a small cavern for a student section and a few rows of bleachers that roll out, seating about 450.
It was always much, much too small for when Chatsworth Sierra Canyon's boys' basketball team would visit.
Properly organizing the chaos of the Bronny James show was a full-time job — an endless stream of media credentials needed to be reviewed, security needed to do venue walk-throughs, and celebrity ticket requests needed to be handled. Hosting a game featuring LeBron James' son was a big deal, and Campbell Hall simply was too small.
So for three straight years, Campbell Hall played on the road against Sierra Canyon. But now, the Studio City prep school is joining the big time. Bryce James, Bronny's younger brother, has arrived from Sierra Canyon, a tantalizing, 16-year-old basketball mystery. Soon, the attention will shift to Campbell Hall, and the stream of credentials and requests will follow, spilling out of that tiny gym and onto a national stage.
"You can't get prepared for that … there's nothing you can do," Sierra Canyon assistant coach Chris Madden said, "unless you're in the [middle] of it."
When LeBron James moved to Los Angeles in 2018 and sent scouts to Sierra Canyon games to evaluate it as a landing spot for his sons, the rising prep sports powerhouse — fresh off back-to-back state titles — proved perfect to handle the pressure. With Bryce's arrival at Campbell Hall, along with other sons of NBA players and the hiring of former UCLA assistant David Grace as coach, the school is building itself into the next beacon for viral high school hoops.
But Campbell Hall, a K-12 school that's always been based on a tight community, now finds itself caught in limbo between its ideological foundation and a major athletics overhaul.
Soon, the circus on the other end of the valley that Campbell Hall once only visited could be pitching its tent on campus.
Campbell Hall is more known for performing arts than athletics. The basketball team is best known for producing the Holiday brothers — Milwaukee Bucks All-Star Jrue, NBA journeyman Justin and former UCLA standout Aaron — but has had limited success for the last decade.
Talent was home-grown, with elementary and high school students mingling on campus. They rarely played out of state, said Thomas Blunt, who coached at Campbell Hall from 2012 to 2018, when the school won three Southern Section team titles — two in girls' tennis and one in in girls' basketball.
"From when I was there, I feel like 1687265412 it's a drastic change … you just start to think, will they be able to sustain that?" Blunt said.
Athletic director Kris King told The Times that Campbell Hall's board and head of school, Julian Bull, pushed to elevate the school's athletic profile. Among those initiatives: a 55,000-square-foot facility titled "The Viking Center" that will include a new basketball gym and counts the James family among its donors in an $80-million fundraising effort.
But the basketball program, King said, has no intention of becoming a hub for transfers or a power on par with Sierra Canyon or neighboring Harvard-Westlake.
"Even if I sat here and said, I want to conquer the world of basketball and win the Open Division each and every year, or bring in [transfer] kids and do all this kinda stuff, we're just not set up that way," King said.
Almost every recent development, though, is contradictory to that statement. Bryce James and his 1.7 million Instagram followers are coming. Grace, who told The Times he wants to compete on a national level and make the Open Division, is coming. Former NBA star Richard Hamilton's son, Richard Hamilton II, is coming, and Chris Paul's eighth-grade son might also be transferring from Sierra Canyon.
King knows the optics, yet vehemently denies the perception that he, or the James family, is orchestrating a pivot in school ideology — the gym won't even be completed, he said, until Bryce's career at Campbell Hall is over.
"How do you do that," King said of the team's growth, "and continue to keep the core and community moving in the same direction?"
Rhetorical question. And, for Campbell Hall, an incredibly important one.
Bryce James, the centerpiece of Campbell Hall's new reality, carries a future as uncertain as his new basketball program.
For a couple of years, observing highlights of his growth on the Nike Elite Youth Basketball League circuit, social media increasingly has buzzed with the opinion that Bryce might be a better prospect than Bronny. The younger James has explosive scoring potential, lanky athleticism and hit a scary growth spurt that had him listed as 6-6 at a recent event.
Bryce struggled to earn minutes as a sophomore at Sierra Canyon, averaging just 3.8 points, because of his defensive effort, according to a person close to the situation unauthorized to speak publicly, and likely would've been hard-pressed to find a consistent role as a junior.
Bryce's connection with Campbell Hall senior Tanner Jones, an EYBL teammate, helped entice him to move, according to Jones' father, Dahntay, a former NBA player and current Clippers assistant. It was a chance at better playing time, and LeBron reached out to get his opinion on the school, said Jones, a former Cleveland Cavaliers teammate.
"Sierra may have been a better fit for his brother, so he got lumped into that and going to school with his brother," Jones said. "But he wanted a change of scenery."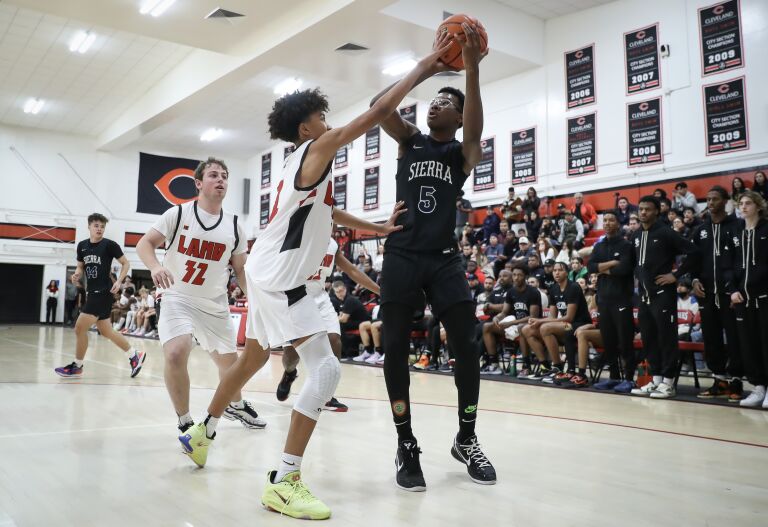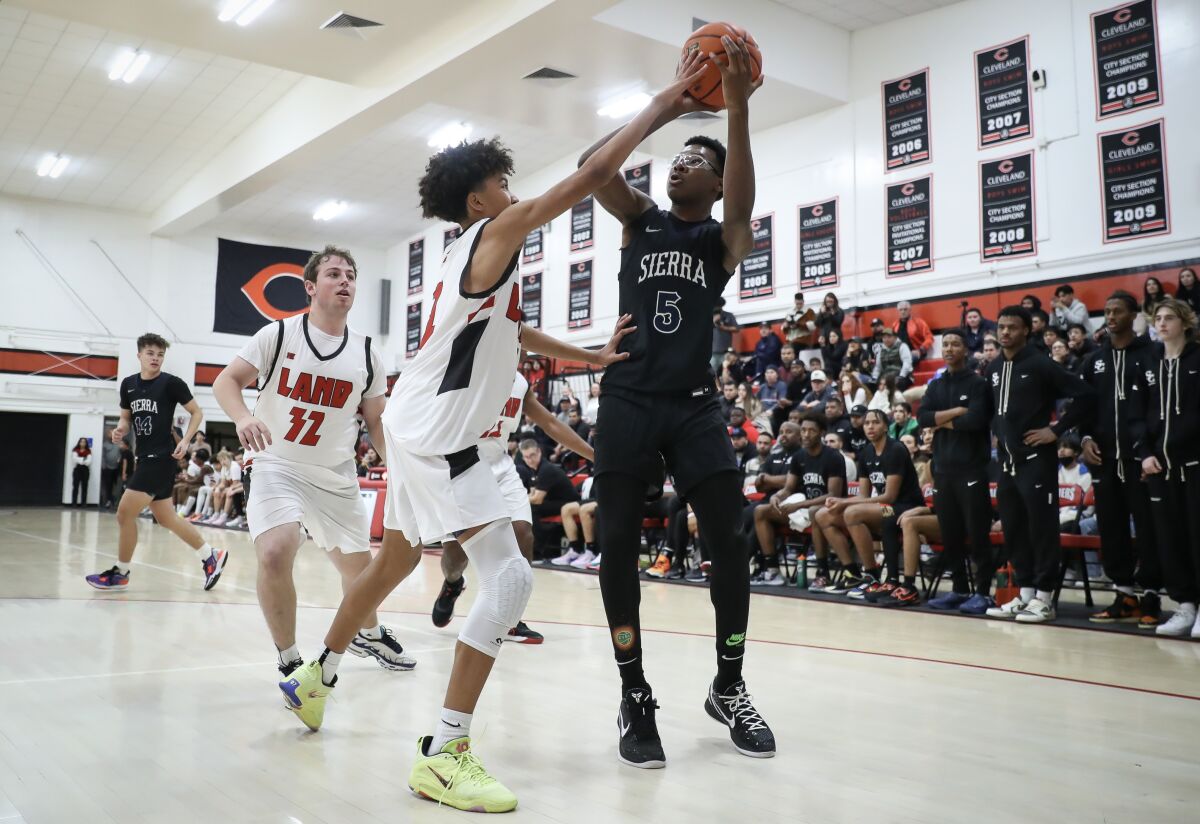 King said the James family likely won't move, meaning that under CIF transfer bylaws, Bryce likely would have to sit out until midway through the winter. Still, the move has drawn national interest: major tournaments, including the Spalding Hoophall Classic and Scholastic Play by Play Classics, reached out to Campbell Hall about participating this winter, organizers confirmed to The Times.
Campbell Hall's team is built to take advantage of the buzz, even if its gym isn't. Grace grinned that the Vikings "want to be entertaining" and to play with pace behind lights-out shooter Aaron Powell and the athletic Jones.
King hoped to keep the home-grown feel. But with security, ticket requests and media, the athletic director said the school decided to host home games at neutral venues, preferably with a capacity of 1,500 or more.
Gone, soon, will be Garver Gym. For the Viking revolution is here.
"We're all better off," King concluded, "as an experience."