On the opening weekend last season, Liverpool went to Fulham and, after twice falling behind, drew 2-2. Coming a week after the Community Shield win over Manchester City, the positive impression of Darwin Núñez seemed to be confirmed but the broader feeling was of doubt. Liverpool just didn't look at it. They didn't overwhelm Fulham physically as they had so many teams previously. Fabinho looked off the pace. Virgil van Dijk, such a commanding figure before then, was given a chasing by Aleksandar Mitrovic. Further doubts were raised about Trent Alexander‑Arnold's defending.
Early-season observations can be made to look very silly very quickly. Núñez did not, last season, develop into the imposing and prolific presence it appeared he might. But that other impression remained valid. Liverpool had lost their physical advantage. The question was why? Was it a short-term issue related, perhaps, to a dulling of appetite having come so close to a quadruple the previous season or to their ageing midfield? Had something gone slightly awry with their press, as had happened during the Covid-affected season of 2020-21? Or was it something more profound? Had other teams caught up with Liverpool in terms of physical preparation?
That lack of sharpness underpinned a lot of Liverpool's problems. Van Dijk had his shakiest season for the club but no defender looks comfortable if his midfield allows an opposing forward to get a run at him. Equally, the interminable conversation around Alexander-Arnold's defensive capabilities would feel less urgent if Liverpool's press regained its snap and opponents stopped being able to measure balls into the space behind him.
Alexander-Arnold has not became a worse defender since the title-winning season of 2019-20 – although it is possible his deficiencies are more widely recognised. The issue is rather that when the press is functioning, Alexander-Arnold doesn't have to do much defending, but can get on with what he excels at – getting forward, linking with Mohamed Salah and getting crosses into the box.
The great fear for Liverpool is that lack of sharpness was not the problem but a symptom. Everything in football connects; differentiating cause and effect can be very difficult. Klopp last season was notably snappish in press conferences, bridling at what often seemed innocuous questions. It's natural that a manager who has suffered a bad result should be in a bad mood, but it raised the thought that if Klopp behaves like that in public in an environment where it is part of his job to present a positive image, what might he like behind closed doors?
Could it be that the malfunctioning press was a result of deteriorating morale, of a group of players no longer as engaged as they once were by a manager now in his eighth year at the club? There are two solutions when staleness begins to set in: change the manager or change the players. Which, quite aside from age, is another reason why an overhaul of the squad was necessary.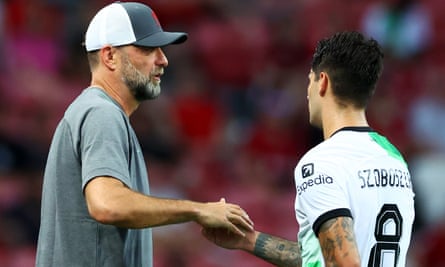 It was to the turnover among his backroom staff that Klopp seemed especially sensitive. Liverpool have had three sporting directors over the past 18 months, while a host of other analysts and members of the medical team have left. If the celebrated transfer committee still exists, it does so only in the manner of Trigger's broom.
Does that matter? Perhaps not. There are plenty of ways of successfully arranging recruitment – although moving away from a system that has worked is an obvious risk. But the centralisation of power in the hands of Klopp is a danger – if only because it opens up the Arsène Wenger pathway to late‑career self‑parody.
In any walk of life, successful practitioners risk reaching a point when they ask not what the best solution to any problem is, but what the most characteristic solution would be. That risk is greater the fewer trusted people there are to challenge that person who has been successful or to offer fresh insights. That's not to say that it has begun to happen or that it will happen at Liverpool, merely that the risk of that sort of atrophy is enhanced the more a club come to believe in the ineffable greatness of a single genius.
Against that backdrop comes what Klopp has termed "LFC reloaded". Work had already begun on the forward line, although injuries meant the full impact was not really seen until the final weeks of the campaign. Liverpool finished the season with seven wins and two draws but, impressive as some of those performances were, by then the fixture list was kind and the pressure largely off.
The task for this summer was to rejuvenate the midfield and the danger is they might have done that too well. Fabinho's form had disintegrated last season and an offer of £40m for him from Al-Ittihad was never going to be rejected. While Jordan Henderson at 32 probably still had more to offer, once his head had been turned by a lucrative offer from Saudi Arabia, Liverpool were never going to fight too hard to keep him. The same may turn out to be true of Thiago Alcântara, subject of a bid from Al-Ahli.
James Milner is 37, Alex Oxlade-Chamberlain has been ravaged by injury and Naby Keïta, also blighted by injury, never reached the levels at Liverpool he had suggested he was capable of when at RB Leipzig. Some sort of clear-out was arguably overdue.
The summer signings Alexis Mac Allister and Dominik Szoboszlai join Curtis Jones, Harvey Elliott and the injured Stefan Bajcetic. They look almost certain soon to be supplemented by either Moisés Caicedo or Roméo Lavia. Caicedo, at 21, is two years older, the more developed talent and more than twice the price, but whichever of the pair joins will leave Liverpool with half a dozen highly gifted young midfielders. It may be that they have the energy and hunger to restore the bite to Liverpool's press, but their relative lack of experience must be a concern.
Liverpool have addressed the failings of last season; the question is how long it takes this new-look midfield to settle. The longer-term issue, meanwhile, may be the centralisation of power around Klopp.