There was little doubt it would happen but San Antonio Spurs fans celebrated anyway when their team selected the phenomenally talented Victor Wembanyama with the first pick of the NBA draft on Thursday night.
The 19-year-old Frenchman has been hailed as the most talented prospect since LeBron James entered the NBA two decades ago. Wembanyama is a very different player from James though: variously listed at 7ft 4in and 7ft 5in, he has all the tools of a big man combined with the agility of a much smaller player. In his final season in the French league he led all players in points, rebounds and blocks.
Wembanyama has the charisma to become a star off the court too and speaks fluent English. He was emotional after NBA commissioner Adam Silver called his name at the Barclays Center in Brooklyn on Thursday night, and hugged his brother, Oscar, and sister, Eve, who are talented basketball players themselves.
"Hearing that sentence from Adam Silver, I've dreamed of it so much," Wembanyama said. "I've got to cry."
Spurs coach Gregg Popovich said he was impressed by Wembanyama's off-court demeanour.
"He's got a great disposition, a good combination of intellectual ability and an emotional intelligence at the same time," Popovich said. "He understands what hype is. He understands all the attention he's getting, but he still welcomes it, deals with it. … So, I think he understands that there's a way to handle that responsibility and still let people feel somewhat close to him. So he doesn't need a lot of advice in that area."
The Charlotte Hornets took Alabama freshman forward Brandon Miller with the No. 2 pick.
Scoot Henderson of the G League Ignite, whose bling-filled jacket stood in sharp contrast to Wembanyama's solid green look, was the No 3 pick by the Portland Trail Blazers.
It was during a two-game series between teams featuring Wembanyama and Henderson last October in Las Vegas that Wembanyama solidified himself as the main man in this draft, scoring 37 and 36 points in front of scouts and some future opponents. His highlights, such as a follow dunk off his own missed three-pointer, became can't-miss content for basketball fans during the past season.
Wembanyama is the Spurs' third No 1 pick and the first since Tim Duncan in 1997, which led to a stretch of five NBA championships through 2014 before they struggled in recent seasons.
He became the first international player drafted No 1 without playing any college basketball since Andrea Bargnani in 2006 and ended a run of 13 straight years where a college freshman went first. Blake Griffin, a sophomore in 2010, was the last No 1 who wasn't a one-and-done.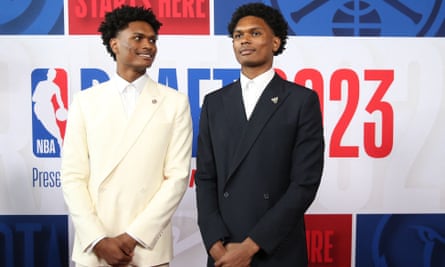 Draft history was made with the Nos 4 and 5 picks. Twins Amen and Ausar Thompson of Overtime Elite became the first brothers to be selected in the top 10 of the same draft, with Amen going to the Houston Rockets and Ausar following to the Detroit Pistons.
"Means a lot to my family," Amen Thompson said. "We were going to be happy whoever went first. For us to go back-to-back, be the first twins to go back-to-back in the top five means a lot."
Anthony Black of Arkansas was taken sixth by Orlando, ending the run of three straight players who hadn't gone to college. But then it was right back to the international ranks when Indiana picked Bilal Coulibaly, Wembanyama's teammate with Boulogne-Levallois Metropolitans 92. His stock soared in the postseason as the team reached the finals in the Pro A League.
NBA draft Top 10
1) San Antonio, Victor Wembanyama, center, Metropolitans 92 (France).
2) Charlotte, Brandon Miller, forward, Alabama.
3) Portland, Scoot Henderson, guard, G-League Ignite.
4) Houston, Amen Thompson, guard, Overtime Elite.
5) Detroit, Ausar Thompson, guard, Overtime Elite.
6) Orlando, Anthony Black, guard, Arkansas.
7) Indiana, Bilal Coulibaly, forward, Metropolitans 92 (France).*
8) Washington, Jarace Walker, forward, Houston.**
9) Utah, Taylor Hendricks, forward, UCF.
10) Dallas, Carson Wallace, guard, Kentucky.
Proposed trades
*Indiana from Washington.
** Washington from Indiana.