Jack Nicklaus never managed it. Neither did Tiger Woods. Arnold Palmer, Ben Hogan, Sam Snead, Seve Ballesteros … the list goes on.
Luminaries of this sport have come and gone without ever posting 62 at a US Open. On a benign afternoon in an opulent corner of Los Angeles, two players delivered the magic number within an hour of each other. La La Land, indeed.
It was easy to feel a degree of sympathy for Rickie Fowler. As he celebrated the making of history, so soon after a form slump which threatened his career, Xander Schauffele appeared on the horizon.
The duo lead this, the 123rd staging of the US Open, at eight under par but the bigger picture was the significant one. Only Branden Grace at the 2017 Open Championship had previously signed for 62 in a major. Fowler and Schauffele have etched their names into golfing folklore. Such roars of delight have not been heard in these parts since the Playboy Mansion was in operation behind the 14th tee.
"It's not really what you expect, playing a US Open," said Schauffele. "But monkey see, monkey do. I was just chasing Rickie up the leaderboard. I was glad he was just in front of me." Schauffele was not taking matters any further than that. "It's just Thursday," he cautioned. "It's a good start."
Schauffele is the world No 6. His performance comes as no real surprise. There is, however, extra significance attached to Fowler's display. For the previous two years, he was not even eligible to play in the US Open. His world ranking briefly slipped to 185th, which was remarkable given his earlier prominence in the sport. In 2014, for example, his worst finish across four majors was a tie for fifth.
Fowler, who is back working with his longtime coach Butch Harmon after what looked a costly hiatus, has rediscovered his mojo. "It's definitely been long and tough," Fowler said. "A lot longer being in that situation than you'd ever want. But it makes it so worth it having gone through that and being back where we are now.
"I would say we're starting to get maybe as close as we've ever been to where I was through kind of that 2014, 2015. I've been playing fairly consistently, but a lot of it for me is what I've been able to get out of off weeks where I'm not playing very well, still able to make the cut and kind of turn those into at least top 20s or top 10s. The last few years those were missed cuts and going home."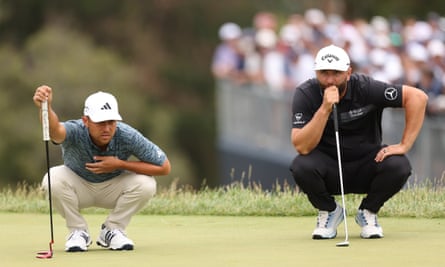 Fowler's round included 10 birdies, with Schauffele recording eight. Both played the front side, their second nine, in 30. Caution relating to the next three rounds is probably sensible; the United States Golf Association is unlikely to take kindly to their course setup being butchered in this fashion. Revenge will be served. "You just wait until this place firms up," added Schauffele. "It's going to be nasty."
A menacing cavalry has sight of the leaders. Dustin Johnson, the 2016 champion, did not miss a single fairway during his 64. From the third, Johnson reeled off five threes in a row. The only aberration on Johnson's card came at the ninth, his 18th; until then, he had aspirations of joining the 62 Club.
Rory McIlroy's outward nine of 30 was his lowest in his major championship career. The Northern Irishman, carrying confident demeanour once more, was also six under when taking to the 18th. Trouble beckoned for McIlroy; he seemed distracted when missing the green with a nine-iron and could move the ball only a matter of centimetres from thick rough beside the putting surface. McIlroy boomed home a bogey putt from 11ft to save a 65. This had the feeling of a key moment.
Scottie Scheffler, who has endured putting woes all year, found some rhythm on the greens before signing for a 67. Bryson DeChambeau, the LIV rebel with a cause, matched Scheffler's tally. DeChambeau had been seen battering shots down the driving range for hours on end on Wednesday.
"I've been hitting more golf balls than I would like to, ever," DeChambeau admitted. "I'm trying to figure out what I did in 2018 that made it so repeatable and I'm very close to figuring it out. It is just going to a take a little bit more time, little bit more grinding, a little more thought.
"I have got to come up with something unique that allows me to be super-stable through impact." It is curious that DeChambeau makes regular reference to 2018; his sole major win to date, at the US Open, came two years later.
Viktor Hovland and Jon Rahm slipped in 69's. Hovland holed his second shot to the 485-yard second. Sergio García is even par.
Those to struggle included Tyrrell Hatton, who is four over. Justin Rose, who would ordinarily relish a US Open test, is plus six. Tommy Fleetwood dropped shots on the last two holes when en route to a 73. Adam Scott and Jason Day matched the score of Fleetwood.