On Friday, Catholics will celebrate the Solemnity of the Most Sacred Heart of Jesus, a feast day meant for the faithful to reflect on God's love for mankind.
Sadly, love will be the last thing on the mind of too many Catholics in Los Angeles and beyond.
Friday is also the day the Los Angeles Dodgers will host Pride Night and present the Sisters of Perpetual Indulgence with a Community Hero Award. The choice to honor the group — whose mostly male members dress in out-there nun habits while doing charity work — has inflamed conservative Catholics like nothing since Nancy Pelosi taking Communion.
The Dodgers at first rescinded their invitation under pressure from loudmouths who argued that the Sisters mocked Catholicism by desecrating its holy rituals and objects and by just being. Then the team reinvited the Sisters and apologized to them after protests from Democratic politicians and LGBTQ+ groups.
Ever since, the right wing of the Catholic Church has argued that the Dodgers' stance is something all good Christian soldiers must fight.
Los Angeles Archbishop José H. Gomez has asked his flock to make reparations in advance of Pride Night. No, he isn't asking that the government hand out money for historical injustices. Reparations in Catholicism means asking God to forgive sins committed against Him — in this case, "the blasphemies against our Lord we see in our culture today" from groups like the Sisters, Gomez co-wrote in a news release.
The nonprofit CatholicVote launched a $1 million campaign urging a Dodgers boycott. The Catholic League claims to have contacted 236 Latino leaders in Southern California asking them to tell fellow Latinos not to attend Pride Night. A coalition of Catholic groups will hold a protest before the game in the Dodger Stadium parking lot featuring speakers, music and prayers.
If these people paid as much attention to poverty, there would be no homelessness in Los Angeles.
Many are angry at me because I've cast them as gay bashers, a stance that's easy to defend. CatholicVote, for one, has a campaign advising people to check out LGBTQ+-friendly books from public libraries so kids can't read them. Church Militant, which will livestream the protest, thinks the idea that gay is good "is completely false." Meanwhile, Catholic League president Bill Donohue has said that Pride Month is nothing more than "a function" of the LGBTQ+ community's "narcissistic tendencies."
I've also heard from good Catholics who truly love and accept the LGBTQ+ community but don't like the Sisters one bit for their supposed sacrilege.
Some are gay Catholics, who occupy a precarious position. Church teachings maintain that homosexuality is a sin, and same-sex marriage remains forbidden. But Pope Francis has preached love and tolerance for LGBTQ+ people in a way that has drawn condemnation from many who oppose Pride Night and the Sisters.
Meanwhile, Gomez criticized a 2020 Supreme Court decision affirming workplace discrimination protection for LGBTQ+ individuals, calling it "an injustice that will have implications in many areas of life." But the Archdiocese of Los Angeles nevertheless runs the Catholic Ministry for Lesbian and Gay Persons, which runs support groups and offers speakers to schools and parishes who "educat[e] and dialogu[e] about inclusivity and acceptance."
I was curious to hear from gay Catholics who are siding with Gomez and honest-to-goodness homophobes on an issue — drag — that's such a big part of queer culture. My knee-jerk reaction was to call them sellouts, or deluded, as many progressives would.
But that's not what Jesus would do. So I set out to hear from my fellow Catholics about how they rationalize loving a church that doesn't always love them, while denouncing a group devoted to fighting intolerance of LGBTQ+ people.
Tom Keep, chair of the Catholic Ministry for Lesbian and Gay Persons, didn't respond to my request for comment about how he and other members reconcile their place in the Dodgers-Sisters imbroglio. But two gay Catholics were more than happy to talk.
Raul De Cardenas recently submitted a letter to the Times stating that he has long celebrated Pride Month as an opportunity to show "the world that we were good human beings, members of the city we call home," while also enjoying the "fresh and positive perspective" drag shows offered.
"Not anymore," the Los Angeles resident wrote. "Now [drag] has become an angry political tool."
He took particular umbrage at Sisters performances that involved pole dancing on a crucifix, as well as what he termed a "disgusting" sexy Jesus contest.
"Now everything is all twisted," he wrote. "Those who, at one time, searched for understanding and tolerance have become the cultural and political dictators of those who oppose those extreme views."
I followed up with De Cardenas to ask how he reconciled being a faithful Catholic with belonging to a church where even Pope Francis, for all his tolerance, has called homosexuality a sin. "The Bible says many things that do not make sense," he replied via email. "The word of the man is full of mistakes."
De Cardenas also insisted that what the Sisters do is not traditional drag, which he characterized as "different and never hurtful. I maintain that faith is above all that."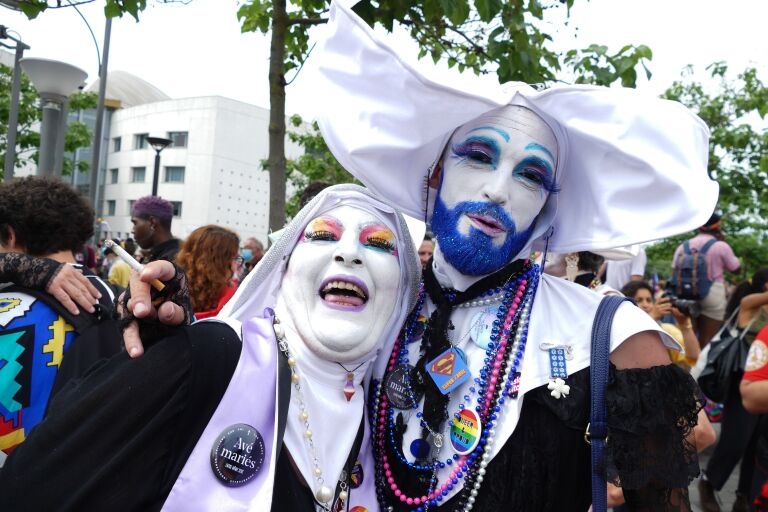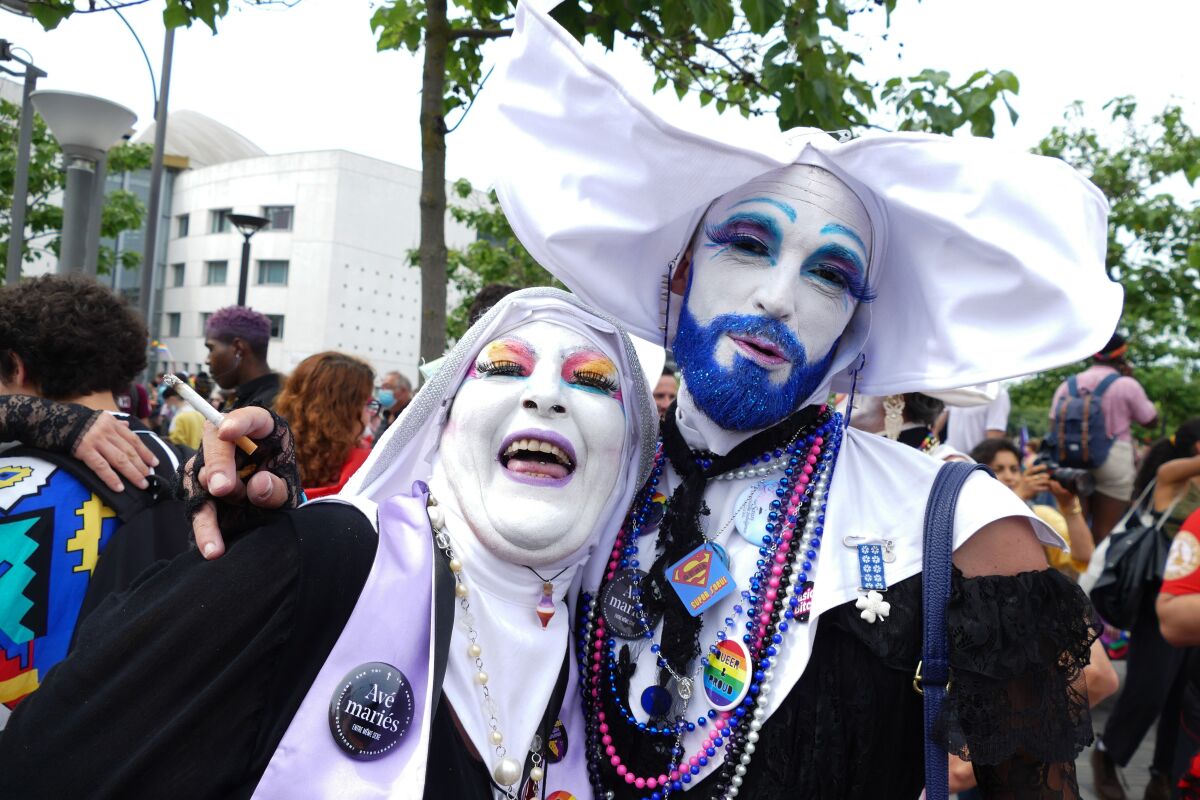 Julian Del Real-Calleros is a Lynwood Unified School District trustee who took me to task on Twitter over one of my columnas on the Sisters controversy.
When I called, he described his school district's first Pride summit, which happened after an out student asked the school board for support to combat bullying. The request, Del Real-Calleros told me, "brought back memories — terrible memories" of suffering the same ostracizing both in the Lynwood schools and within his Mexican immigrant community.
One day during a quinceañera Mass at Our Lady of Victory in Compton, a priest saw the teenage Del Real-Calleros and his cousin standing outside.
"This guy was not an idiot as he looked at us. He said, 'You don't have to be out here, this is the house of God. He loves you regardless.' That hit me. I found refuge."
The 34-year-old is so committed to Catholicism that when he and a former partner were considering parenthood via adoption or a surrogate, they researched whether they could baptize their child as Catholic (they could, although the Church would not acknowledge them as a couple).
"There are people within the church that remember we're all God's children," Del Real-Calleros said, "and that His primary message is love."
He planned to attend the Dodgers' Pride Night as in years past. But when he found out the Sisters — whom Del Real-Calleros first encountered at a San Francisco Pride event a decade ago — would be honored, he decided against it.
"Should I continue rooting for them for awarding [the Sisters] that's making a disgusting mockery of my faith," he said, "or should I turn a blind eye and let God be their judge?"
When I pointed out that drag is purposefully outlandish, he agreed.
"But I wouldn't compare [the Sisters] to drag, because drag is fun and entertaining," he said. "That's not them. They put innuendo into everything."
He understands that they do charitable work, but their "sexualization of nuns" particularly offends him, because one of his aunts is a nun.
"Their devotion is to God. They practice abstinence. Why do the Sisters have to mock that?"
The conservative war against Pride anything has become so heated that Del Real-Calleros has found himself defending drag shows to fellow Republicans. He hopes that the Dodger Stadium protest doesn't devolve into a rally against people like him.
"I hope these people, if they're smart, they'll do it about the [Sisters], not the Pride Night," he concluded. "If you protest [the latter], then you're doing a whole different other narrative."