It will be of no consolation to Everton fans to reflect that their plight is, looked at in a certain light, an indicator of the health of English football. Or at least is a healthy aspect of English football. Everton were one of the Big Five who led the breakaway to set up the Premier League in 1992. In the previous decade they had won two league titles, the FA Cup and the Cup Winners' Cup. They are still the fourth-most successful team in English top-flight football (level with Manchester City on nine league titles but with more second-place finishes). They could, perhaps should, have become part of the self- perpetuating elite.
Instead, they are proof that with 30 years of mismanagement (although that has accelerated recently), even the great can find themselves teetering on the brink, staring into the abyss of relegation. While for many clubs the Championship can offer an opportunity for renewal – some fans, indeed, if they can adjust to the loss of status, may find the experience preferable – for Everton it really is something to be feared.
Their debt stands at £141.7m, they have made a loss of £371.8m over the past three years and they have a £150m loan that would need refinancing in the event of relegation. Given how interest rates have risen over the past year, and given a Championship club clearly does not have the revenues of a Premier League club, that would inevitably be on significantly worse terms. Interest repayments are already believed to be costing almost £50,000 a week.
Those financial issues could have direct consequences. While some expenditure can be offset as investment in infrastructure, Everton may still be in breach of the Premier League regulation that losses must be limited to £105m over a three‑year period and could face sanctions – including a potential points deduction – at a hearing in October.
But the indirect consequences are already making themselves felt. Seven players have left the club this summer but the 19-year-old forward Youssef Chermiti, brought in from Sporting Lisbon for £10.8m, is the only permanent signing for whom they have paid a fee. Sean Dyche has been admirably blunt about his capacities: "If he was six years older and had scored 100 goals," he said, "then he wouldn't be coming in."
That's the truth if it; money is tight and Everton, necessarily, are shopping for bargains and overlooked potential. Not just because that's what they can afford but because the club over the past two or three years have frittered away whatever cultural capital remained from the David Moyes era and before.
They're not his gritty overachievers any more, or Joe Royle's dogs of war, still less the fluent champions of Howard Kendall and certainly not the School of Science. To most potential transfer targets, they're just strugglers a section of whose fans will confront you in the street or abuse you online if results are poor.
Even two of the loan signings Everton have brought in have arrived with a level of apparent reluctance. After passing a medical in January, Villarreal's Arnaut Danjuma instead joined Antonio Conte's Tottenham before finally arriving at Goodison in July while it seemed pretty clear that Jack Harrison would have joined Aston Villa from Leeds had his hip injury not put them off.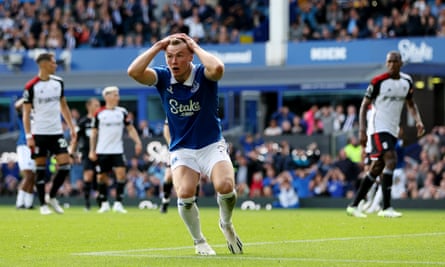 The sanctions imposed on Alisher Usmanov didn't help, but this is largely a crisis of Everton's own making. The vast majority of clubs are stepping stones, but most aspire to be a stepping stone on the way up: buy a player young and cheap, develop him and sell him on at a profit. Everton, though, seemed set on signing players who had already peaked, paying them significant wages and then getting very little back when they came to sell them.
Bargains can be found among other clubs' discards and a bit of experience can be beneficial; the problem is signing a glut of them at once, not just because of the lack of resale potential, but because experienced can mean cynical and jaded. Add in the new stadium, the cost of which could spiral to more than £700m, and that Everton are averaging a manager a year since Roberto Martínez left in 2016, it's easy to see how the mess has developed.
It's harder to understand how it can be resolved, certainly not quickly, even if Everton have secured a £26m fee from Juventus for Moise Kean that, including the loan fees they have taken for him from Juve and Paris Saint-Germain, means they have somehow made a profit of around £10m on a player who started six league games for them since joining – from Juve – four years ago. There are times when football's finances really are inexplicable.
But getting a good deal on Kean will not save Everton. It's a slightly unfair stat given he has been in charge for 19 games, but Dyche has the lowest win percentage of any permanent Everton manager other than Mike Walker. Few, though, have had to deal with such paltry resources, such a debilitating sense of gloom.
Everton weren't that bad last Saturday in losing at home to Fulham. They had chances, hit the woodwork and had a goal ruled out for the opposing goalkeeper tumbling over a static James Tarkowski. Fulham scored from one of their only two shots on target; Everton failed to score from any of their nine.
According to Opta, Everton recorded an xG of 2.93 – no side last season had so high an xG and failed to score. In isolation, the temptation would be to shrug, reflect on what a strange game football can be sometimes and move on.
This, though, isn't just one of those things. This is a recurring pattern. Only Wolves scored fewer goals than Everton last season, while only Chelsea underperformed their xG by more. Everton need to start scoring goals. Perhaps Neil Maupay will suddenly become prolific. Perhaps Dominic Calvert‑Lewin will stay fit. Perhaps Danjuma and Harrison can provide thrust from deep. Perhaps Ché Adams will sign from Southampton and score bucket-loads.
But that those are the straws at which Everton are clutching is indicative of how miserable the situation has become, a reminder that bad decisions have consequences, that in English football the position of the elite has never been guaranteed.