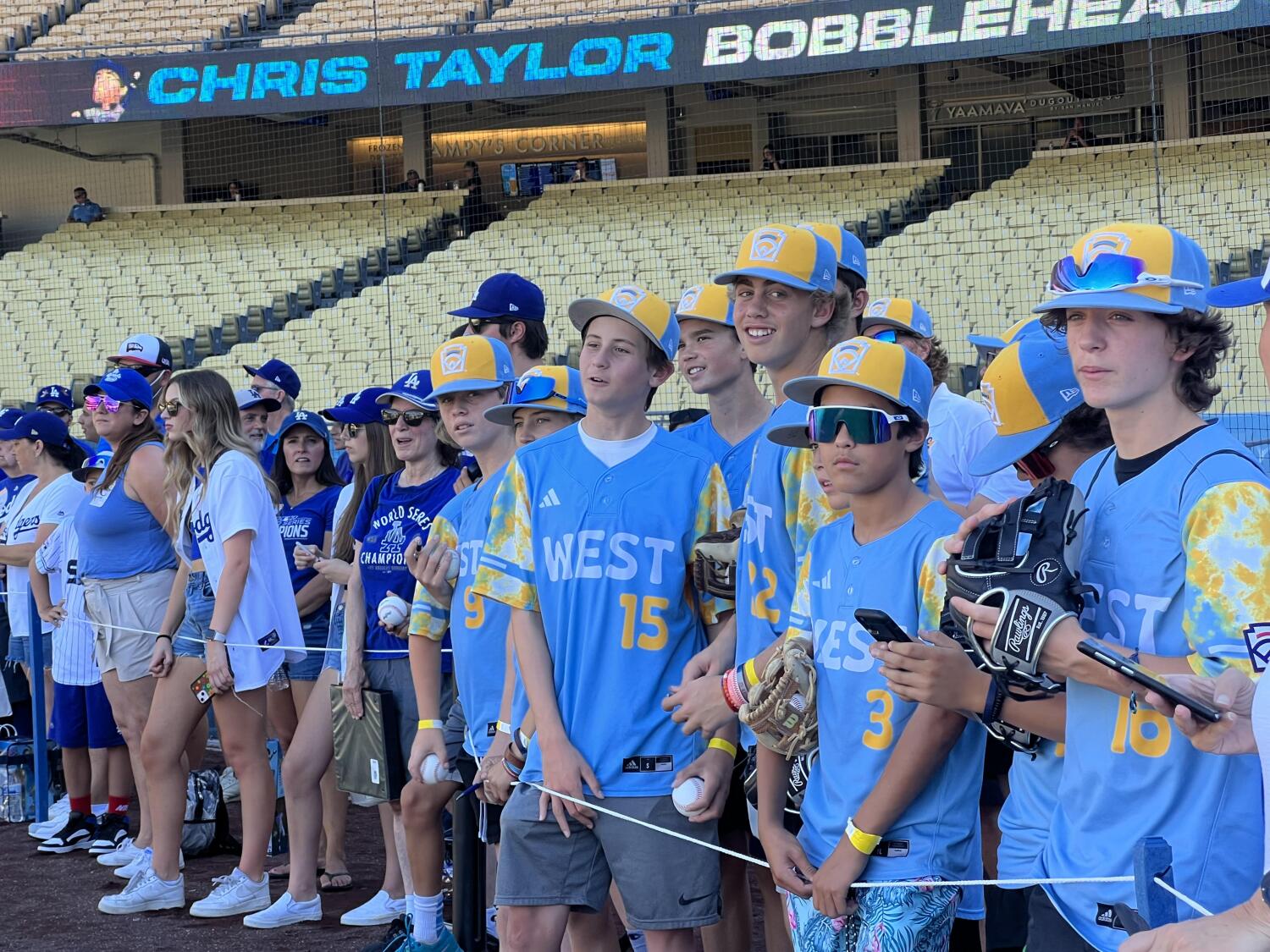 Dressed in shorts, carrying balls for autographs and wearing their familiar baby blue West jerseys, the triumphant El Segundo Little League team traveled to Dodger Stadium on Tuesday night to be recognized for winning the Little League World Series championship.
Whether going up stairs or walking past concession areas, workers, fans and admirers would break out in spontaneous applause. Former Lakers coach Frank Vogel showed up on the field as the team was watching batting practice and asked for a selfie with Louis Lappe, who delivered the game-winning walk-off home run heard around the world on Sunday.
"It's great," Dodgers manager Dave Roberts said of their presence. "They won the Little League World Series, and that is is certainly quite the feat. Quite the experience. I was fortunate enough to play Little League baseball, didn't get that far. But it's amazing how every year in Major League clubhouses, we're all locked in to the Little League World Series."
During a tour of Dodger Stadium, players looked tired, and deservedly so. They had been up since 6 a.m. doing interviews and they continued with one TV affiliate after another asking Lappe and manager Danny Boehle to talk about their Little League experience.
Asked if he were getting tired of the interviews, Lappe said, "I'm not getting tired. I'm getting better."
The players' biggest thrill was standing in a roped off area behind home plate and waiting for players to drop by and give autographs during batting practice before the Dodgers' game with the Diamondbacks. First came Max Muncy, who gave baseballs, followed by James Outman, Jason Heyward, Austin Barnes and Bobby Miller.
Outman greeted them, "What's up champions?"
Roberts asked, "Was it crazy knowing everyone in the world was watching?"
Walking into the ballpark from center field, El Segundo players stopped to take a photo with an 11-year-old fan celebrating his birthday. People continued to salute them wherever they went.
"Studs," one worker shouted.
"Congratulations."
"We're so proud."
The 6-foot-1 Lappe got an autograph from Mookie Betts and learned, "I'm taller than him, which is crazy."
The players returned home from Williamsport, Pa., on Monday and were feted by a caravan through Main Street, El Segundo, where hundreds showed up. None went to school Tuesday. On Wednesday, some might start the fall semester. A parade is planned for Sept. 10.
During a pregame ceremony, the team was introduced. Lappe took a microphone and said, "It's every kid's dream and I lived it."
Players sat in home-run seats in right field, giving them access to all the hot dogs they desired.