If, as free-market orthodoxy tells us, price is dependent on the interaction between demand and supply, Brighton and Southampton should probably be thinking of adding a few million to the fees of both Moisés Caicedo and Roméo Lavia. There is only one of each and both Liverpool and Chelsea are in desperate need of players who can add discipline and muscularity to their midfields.
There were stories during the hyperinflation in Zimbabwe of golfers who would pay for their drinks before a round because by the time they got to the bar the price would have gone up. Having signed Jude Bellingham for an initial £88.5m two months ago, Real Madrid find themselves in a similar position, as the market for central midfielders becomes seriously overheated.
This was a fun game but not necessarily a good one, with both sides worryingly open. Liverpool had the better of the first half hour, Chelsea of what followed, but neither was ever entirely convincing, and it felt vaguely mystifying that each side managed to score only once.
Given the shambolic end to last season, Chelsea will probably feel more like this represented progress. Still, though, there is something remarkable about a club that have spent as they have ending up with a central defender playing at left‑back with an international left‑back pushed up on to the left side of midfield, despite the presence in the squad of around £200m worth of players familiar with the role.
Perhaps this was a one-off, a specific ploy to negate Trent Alexander‑Arnold and his habit of wandering into midfield, but at Chelsea these days if it looks like chaos it's usually because it is.
Poor Levi Colwill. Although he is left-footed and has at times thrived on the left side of a back three, he had not previously started a league game, either for Brighton or Huddersfield, as a left-back. There are easier ways to learn the role than facing Mohamed Salah. The Egyptian had already hit the bar when he gathered Alexis Mac Allister's pass on the run after 18 minutes. Colwill, backtracking, was flatfooted, opening space for Salah's low pass for Luis Díaz, peeling off the back of Axel Disasi, to open the scoring.
Although a second goal, coming as Salah ran behind Colwill on to a through-ball from Alexander‑Arnold was ruled narrowly offside, it felt more by luck than judgment. That is not particularly to blame Colwill, who is clearly a player of immense talent; it's more that the structure let him down, particularly early on.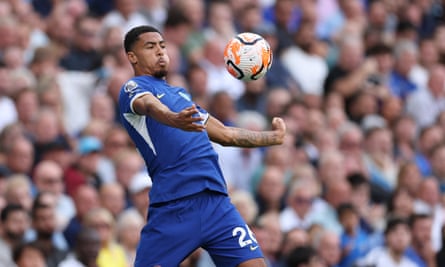 For his part, Ben Chilwell was very involved from an attacking point of view. He set up the equaliser for Disasi and might have had a couple of goals himself; oddly it was the defensive side of his game that seemed wanting, as though having been let off the leash Chilwell was determined never again to submit to its constraints. He, too, had a goal disallowed for a narrow offside and, while it wasn't a glaring error, it was notable that it was Alexander-Arnold who almost played him onside. The tactic of using him in a hybrid right-back/central midfield role remains intriguing rather than entirely persuasive.
Liverpool dealt with their midfield shortfall by fielding the forward Cody Gakpo as an advanced midfielder in a central three – where he has played in a number of pre‑season games – with Mac Allister and Dominik Szoboszlai. In that first third of the game, when Chelsea were extremely tentative, Mac Allister thrived as a deep-lying playmaker – it was his pass to Salah that ignited the move that led to the first goal, but the longer Chelsea's period of dominance went on, the more obvious it was that the Argentinian needs a commanding presence to partner him deep in midfield. Mac Allister and his international teammate Enzo Fernández hugged at the final whistle and exchanged shirts; both had fine games, but both would probably have been even more effective with the other alongside them.
It's easy to see why both sides want at least one of and, in Chelsea's case seemingly both, Caicedo and Lavia. At the moment, it seems Chelsea are leading that race, prepared to pay Brighton £115m for the Ecuadorean, while offering higher wages than Liverpool, and also ready to go up to £55m for Lavia, higher than his buyout clause. That would take their spending since Todd Boehly and Clearlake took over as owners in March last year to almost £1bn. Quite what sales or other manoeuvres will be necessary to make that comply with financial fair play regulations is anybody's guess. The churn goes on (and they could still probably do with a centre-forward).
More immediate is the issue of who Liverpool will bring in if they miss out on both Caicedo and Lavia. To the extent that they probably didn't expect to lose either Fabinho or Jordan Henderson, never mind both, it's perhaps not a surprise that they have been left short. But the fact is that is where they are and, for all the promise of the 18-year-old Stefan Bajcetic, who is recovering from a groin injury, they lack a holding midfielder. This, though, is a difficult time to buy.