Brandon Staley spent several days late last season defending his decision to play his starters as much as he did in a regular-season finale that was statistically meaningless for the Chargers.
On Wednesday, the player most impacted by that call defended it, too, Mike Williams saying he had no regrets about the team's ill-fated Week 18 trip to Denver.
"I mean, the coach wanted us to play, so that's what we had to do," Williams said, speaking publicly on the subject for the first time. "That's what we get paid to do, play football. I was with whatever decision he made."
Williams suffered a fracture in his back on a hit in the final three minutes of the first half in the game the Chargers lost 31-28.
Initial tests did not reveal the injury, giving Staley and his players hope that Williams would be able to come back a week later to face Jacksonville in the AFC wild-card round of the playoffs.
But a follow-up exam showed a small break that sidelined Williams as the Chargers' season ended with a 31-30 loss to the Jaguars.
Entering Week 18, the Chargers had won four in a row to clinch a postseason berth. With his team not needing a victory against the Broncos, Staley still opted to use most of his regulars well into the second half.
The coach faced significant criticism after the game and then into the week of playoff preparation. After the Chargers blew a 27-0 lead at Jacksonville, there was widespread speculation Staley could be fired.
"For me, I understood why he wanted us to play," Williams said. "We had a lot of momentum going into that game. He wanted to keep the momentum going. Coach Staley is our leader. We believe in him. We can go with whatever he wants us to do."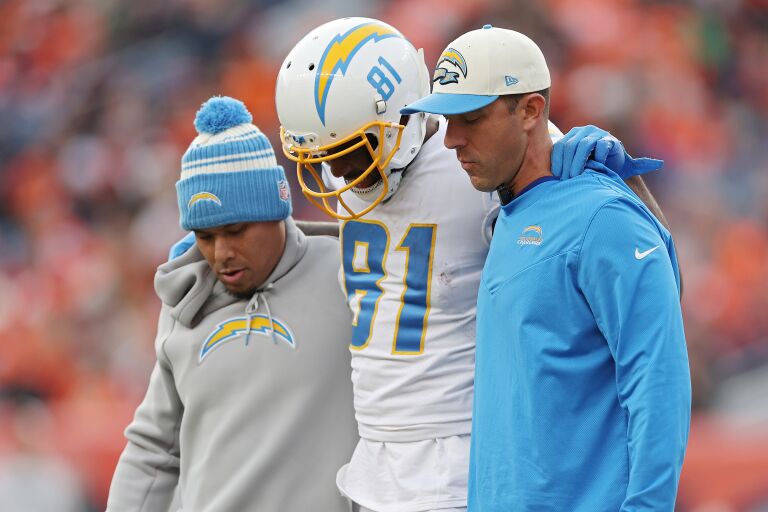 Williams said he was medically cleared "a couple weeks after the season" and declared himself to be healthy as the Chargers concluded their two-day minicamp in Costa Mesa.
He explained that the most difficult part of the experience was not being able to contribute as his team returned to the postseason for the first time since 2018.
"I think I was just more frustrated at that," Williams said, "just not being able to go out there and help my team win a football game that we knew we were capable of winning."
Ekeler's incentives
Austin Ekeler didn't get the contract extension he wanted or the trade he sought but the running back said he was glad the Chargers at least sweetened his existing deal with some attainable incentives.
"I am thankful for the way it played out because the Chargers did give me something in the middle…" he said. "I'm very appreciative of that because they did not have to do that."
Entering the final year of his contract, Ekeler had hopes of securing an extension this offseason. When talks with the Chargers stalled, the team granted him permission in March to pursue a trade.
There were scant options available, however, in a market that has seen the value of running backs decline steeply in recent years. The Chargers and Ekeler eventually settled on an incentive package worth up to $1.75 million.
Speaking publicly for the first time since his deal was bolstered, Ekeler said "it would have been amazing" to find a trade partner and sign a long-term contract. But he said he also knew the realities he was facing.
"I understood the situation it would put someone in," Ekeler said. "Giving up draft picks and having to renegotiate a contract is a pretty big ask."
Herbert on the money
Now entering a six-week break before the start of training camp, the Chargers still have one outstanding contract situation.
Justin Herbert is one of two prominent quarterbacks still eligible for extensions. The other is Cincinnati's Joe Burrow, the No. 1 pick in the 2020 draft. Herbert was selected sixth overall three years ago.
When asked Wednesday about the option of not practicing in training camp as a means to try to force a deal, Herbert said he hadn't thought much about the possibility.
"The role of quarterback is to be out there for his team and do everything he can to put that team in position to win," he said. "I understand that responsibility. So it's something that you'll address when the time comes, but I guess we'll see."