Heavy defeats perhaps aren't what they used to be. Spain won the Women's World Cup despite a 4-0 defeat to Japan in the group stage. Manchester United finished third in the Premier League last year despite losing 7-0 at Liverpool. Brighton came sixth despite losing 5-1 at home to Everton. There may still be a stigma to a heavy loss, but it is perhaps not the indicator of fundamental flaws it once was.
Still, it was intriguing to hear Sir Alex Ferguson say that Aston Villa had played "fantastic football" in their 5-1 defeat at Newcastle on the opening weekend of the season – even if there was immediate apparent vindication as they beat Everton 4-0 in their next game. But did Villa play particularly well in that game or was it more a case of Everton capitulating, their confidence shaken by an unfortunate loss to Fulham on the opening day and further rattled by Dominic Calvert-Lewin's head injury?
With due caveats about the gulf in resources, a 5-0 Conference League victory at Hibernian on Wednesday suggested that Villa's true status is nearer the 4-0 win than the 5-1 defeat. Sunday's fixture at Burnley – who, having started with a game against Manchester City and a postponed fixture at Luton, may feel their season has not yet quite begun – is likely to give a far truer impression.
Even if the reverse at St James' Park was in some way misleading, there were reasons for it. It wasn't a case of a team scoring with every shot, rather Newcastle played very well and their attacking strength – the directness and power of their forwards – was precisely the right weapon to take advantage of Villa's defensive vulnerability. It is striking how similar this season's 5-1 defeat was to the 4-0 defeat Villa suffered at St James' Park last season in the last game before Unai Emery took charge.
Then, too, Newcastle's second goal came from a set play and a runner not picked up. Then, too, every subsequent goal came from balls played in behind a retreating defensive line that had been set high. The third goal in each game even came after a defender had seemed to have the opportunity to clear only to hesitate – Ezri Konsa this season and Matty Cash last (although he may argue that Konsa got in his way).
Villa now are a very different side to Villa then in terms of both organisation and morale, but, equally, five of the seven deepest-lying starters – Emi Martínez, Cash, Konsa, Tyrone Mings and Douglas Luiz – were the same.
To an extent conceding goals in transition is the risk faced by any side that plays a high line. Push up and possession is lost and something goes awry with the press – or occasionally even when it doesn't – teams will be susceptible either to balls played in behind or to opponents who can carry the ball at pace towards a defensive line exposed with space behind it to attack.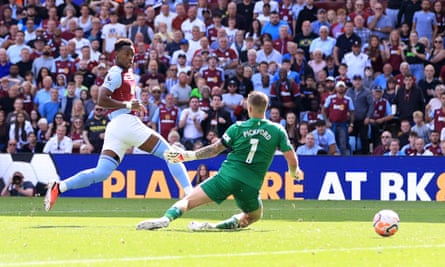 The trade-off is always whether the benefits of winning the ball back high up the pitch, stifling counterattacks before they have begun, outweighs the danger. That's why Pep Guardiola, throughout his career, has been so obsessed with trying to prevent his sides being countered against.
Liverpool's struggles with their press were well documented last season and, although they go to St James' on Sunday unbeaten in 13, they will find their tentative renaissance seriously tested by a quick and powerful forward line. How Trent Alexander-Arnold fares against Anthony Gordon ought to give a proper indication of whether his hybrid role, pushing from right‑back into central midfield (itself, at least the way Guardiola has used it with Philipp Lahm, João Cancelo and John Stones, a ploy to counter the counter), is sustainable.
For Villa, that risk was heightened at Newcastle by the loss of Mings to a serious knee injury. Pau Torres may turn out to be an excellent signing – and having worked with him at Villarreal, Emery should know exactly what he is getting – but it is fair to say he had not yet gelled with his teammates and the result was a rickety crookedness to the back four. A clean sheet against Everton is of some, but not enormous, encouragement.
Last season, perhaps, offers more concrete reason for Villa to feel optimistic. Emery's first seven Premier League games brought five wins but they then suffered three defeats in a row, against Leicester, Manchester City and Arsenal, conceding 11 goals. The sense was of a bubble bursting, of the new manager bounce wearing off. Notably of those 11 goals conceded six stemmed from transitions (two also involving individual errors).
But Emery was able to adapt. He spoke of "changing the focus" and "becoming the protagonist". Villa sought to control possession more and the press was reset. Villa leaked eight goals in the final 15 games of the season; in none of those games did Villa concede twice. After the defeat at Newcastle, Emery spoke of Villa losing "control" and of Newcastle's "very powerful" transition "with speedy players".
The emphasis on control seems telling: the best way not to be picked off in transition, after all, is not to lose the ball in the first place. Although Villa had 62% of possession in the defeat by Leicester last season, against City and Arsenal it fell to 33%. In the 10 games that followed, the opposition dominated possession once.
Emery sides have always been able to play on the counter but his default is control through possession. Villa had that this season against Everton but not Newcastle, when possession was fairly evenly shared. Given Burnley had less than 50% possession four times in 46 Championship games last season, all away, and never had less than 44% of the ball, that will be a challenge at Turf Moor.
The defeat at Newcastle was the first real question that has been raised against Emery since those three successive defeats. The next few weeks, beginning against Burnley, will demonstrate whether it was a temporary glitch or whether it was their form in the final three months of last season that was illusory.